From faith in money to following Christ: Mayflower Church pastor shares his journey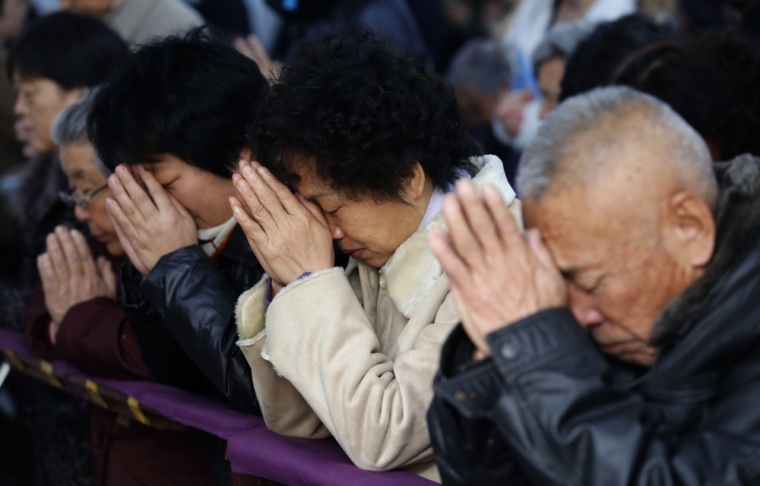 Pastor Pan Yongguang of China's persecuted "Mayflower Church," whose members fled to South Korea in 2019 only for their asylum request to be denied, shared his journey of conversion from faith in money to Christ and the journey of his church in a recent interview.
When Todd Nettleton, host of Voice of the Martyrs Radio, asked Pastor Pan if he knew persecution would come if he became a follower of Christ in a communist country, he replied by saying he knew people in China must pay a price for being Christian.
"That's a special part of Chinese Christians. They know they have to pay a price," he said.
Before his conversion, Pan said he believed in nothing, but perhaps money.
When Pan's father suffered a severe accident that resulted in his hospitalization, Christians started visiting the hospital. That's when Pan decided to accompany them to their house church.
This went on for a year. He was then baptized on Easter Sunday in 2003. One of the books that impacted him, he added, was Knowing God by JI Packer.
People in his church said they wanted a preacher like him, so he decided to take on that role and has been doing so ever since.
In 2019, 64 Christians, including 32 children, from his church, Shenzhen Holy Reformed house church, arrived at South Korea's Jeju Island. That's when they came to be known as Mayflower Church. The name Mayflower comes from the English ship that carried passengers — some of whom were Protestant separatists seeking religious freedom from the Church of England — who traveled to the British colonies in the 17th century.
Pan said the decision to leave China was influenced by a lunch he had with Pastor Wang Yi in 2018. Wang, who is now serving a nine-year sentence as a prisoner for Christ, urged Pan to prepare himself to go to prison as well.
After Wang's arrest, police started monitoring Pan and making in-person visits on a regular basis to intimidate him and other church members.
Eventually, Pan and his church members had to decide whether to leave China or stay. Despite having good jobs in China, they were concerned about raising their children in a godly manner amid communist pressure and indoctrination, Pan shared.
After a year of discussions, they unanimously agreed to leave China, knowing that each Sunday could be their last together, he said.
According to the Midland, Texas-based ChinaAid, which monitors human rights violations inside China, the Christians' decision to flee China was also related to the ongoing interrogations they endured during the Hong Kong protests in 2019. Even though members of the church did not participate in the Hong Kong protests, they faced tremendous pressure and were interrogated by authorities in Shenzhen, which is near Hong Kong.
The Wall Street Journal reported in June 2021 that the Chinese Christian families wanted to resettle in the U.S. A couple of church members who decided to return to China after fleeing to South Korea had faced retribution. Their homes were raided by police who confiscated Christian books and electronic devices and monitored and restricted their movements.
Members of the church have applied for refugee status with the U.N., but are still awaiting approval from the office in Thailand, said ChinaAid, which is assisting the 64 Chinese Christians now living in Thailand, while Freedom Seekers International in Tyler is seeking sponsors for their resettlement to the U.S.
Earlier this month, ChinaAid said Southern Baptist congregations and other churches in East Texas have pledged to sponsor the resettlement of the exiled Christians.
In the meantime, Pan said he and the Mayflower Church members are instructing their children to follow Christ as they wait to see what the future holds for their lives. Pan added that he's hopeful that someday the persecution would end and they could safely return to China, but it's unknown if that will ever be possible. 
Open Doors USA, which monitors the persecution of Christians in over 60 countries, estimates that China has more than 97 million Christians, many of whom worship in unregistered or "illegal" underground churches.
The five state-sanctioned religious groups in China are the Buddhist Association of China, the Chinese Taoist Association, the Islamic Association of China, the Protestant Three-Self Patriotic Movement and the Chinese Patriotic Catholic Association.
Even the organizations affiliated with the five authorized religions can be subject to surveillance and monitoring.
In 2018, the communist regime released a document titled "China's Policies and Practices on Protecting Freedom of Religious Belief." It declared that Chinese faith communities "should adhere to the direction of localizing the religion, practice the core values of socialism, develop and expand the fine Chinese tradition and actively explore the religious thought which accords with China's national circumstances."