Chrissy Metz, Carrie Underwood perform inspiring 'Breakthrough' soundtrack song at ACM awards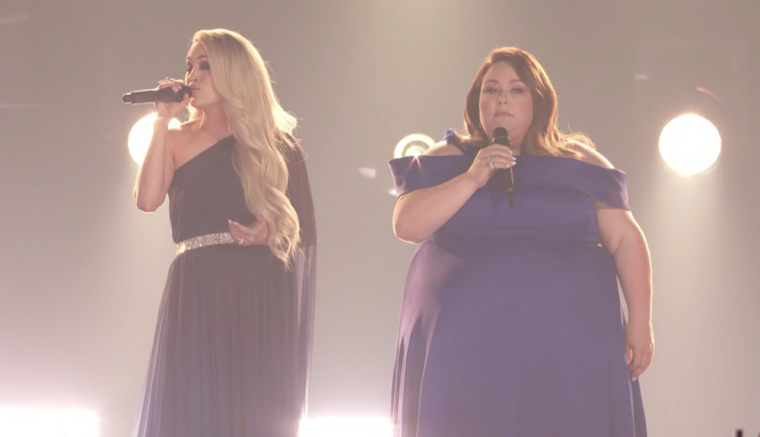 Chrissy Metz, the star of the upcoming faith-based film "Breakthrough," made her singing debut on live television Sunday at the ACM Awards in Las Vegas. She was joined by country stars Carrie Underwood, Lauren Alaina, Mickey Guyton and Maddie & Tae.
The all-star studded ensemble performed "I'm Standing with You" from Metz's upcoming Christian film. The "This is Us" actress was first on stage sporting a stunning blue gown singing the inspiring lyrics. Shortly after, she was accompanied by Underwood and the other singers.  
"When you're hurting/I want you to know/That you'll never have to hurt alone/When your faith is, faith is running low/I never lose faith in you/When the nights around you/And you think that no one cares about you/I will go and throw my arms around you," the song lyrics testify.
Together, the powerful ladies belted out the song's inspiring words, which are featured on "Breakthrough's" soundtrack.
Prior to hitting the stage at the popular country music awards, Metz opened up to PEOPLE on the red carpet about how she felt to be singing on live TV.
"I'm excited. I mean, you know, as a little girl, you always dream about something like this. But to actually do it and to hold a stage with these incredible women — Lauren Alaina, Carrie Underwood, Maddie + Tae, Mickey Guyton. Are you kidding?" she gushed. "It's really exciting."
The performance was also a part of Underwood's first post-baby No. 2 performances of that evening.
Metz is no stranger to singing. Her "This is Us" character, Kate, is often featured singing on the Emmy Award-winning show.
The 20th Century Fox movie "Breakthrough" is based on Joyce Smith's book, The Impossible, and was adapted for the screen by Grant Nieporte ("Seven Pounds").
"Breakthrough" tells the miraculous true story of Joyce and John Smith, a mother and son who rely on the power of prayer and the Holy Spirit following a fatal accident that leaves the son dead for 45 minutes. The mom's desperate prayers bring him back to life after the doctors lose all hope.
Metz plays the role of Joyce Smith and is joined by actor Josh Lucas ("Sweet Home Alabama"), who plays her husband, Brian Smith. Marcel Ruiz ("One Day at a Time")  portrays their son, John.
The film was directed by TV director Roxann Dawson ("House of Cards," "Scandal," "The Americans," and "Agents of S.H.I.E.L.D.") and produced by DeVon Franklin ("Miracles From Heaven").
"Breakthrough" hits theaters Easter weekend. Watch the full performance and the 2019 ACM Awards here.