Christian Baker: Business Being 'Blessed Abundantly,' Orders Flowing Despite Gay Wedding Cake Backlash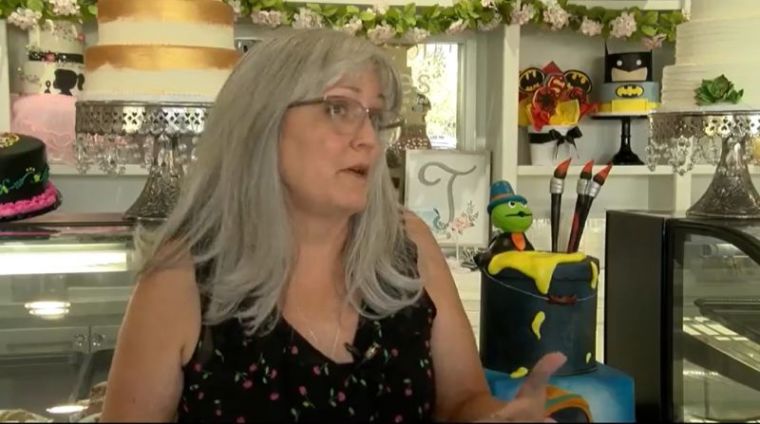 A Christian baker from California said that her cake business has been "blessed abundantly," with orders on the rise despite the backlash over her refusal to make a gay wedding cake due to her beliefs.
"The community has loved and blessed us abundantly today at the bakery. We have had to restock the shelves three times," Cathy Miller, owner of Tastries Bakery, told The Bakersfield Californian on Monday.
Miller was forced to temporarily take down her website and Tastries' social media pages after Eileen Del Rio complained that the bakery had refused to make a cake for her same-sex wedding and had referred them to a competitor.
But the cake maker insisted that Christians "have a love for everyone," regardless of her belief that marriage is solely a union between one man and one woman.
"We want to embrace everyone. We are all God's children. We are happy to make birthday cakes and cupcakes and cookies and brownies for everyone. We want to celebrate each individual regardless," Miller said.
Still, the baker insisted that she has to follow her beliefs when it comes to marriage.
"My conscience doesn't allow me to participate in certain activities that are contrary to my biblical beliefs," she explained. "I pray that we can all come to an understanding so that we can continue to get along."
The Tastries website was back online Wednesday morning, with the Bible passage John 3:16 quoted on the front page, reading:
"For God so loved the world, that he gave his only begotten Son, that whosoever believeth in him should not perish, but have everlasting life."
The Bakersfield Californian reported that despite Miller's long-standing policy on not make gay wedding cakes, other same-sex couples have recieved their cakes from Tastries.
Elena and Marissa Delgado said that they were very happy with the cake for their wedding on July 1, which came with a cake topper of two women in dresses on top, and was delivered by one of the cake shop's employees.
"I would never bash their cake. The cake was delicious. The service was amazing," Elena Delgado said.
She speculated that she and her wife were able to get a cake while other gay couples have been denied, because they did not talk to the owners themselves.
"We attend church ourselves on a regular basis," Marissa Delgado said. "We're just typical residents of Kern County."
Tastries said that at the time, it was not clear in the cake order that it was going to be for a gay wedding.
Other Christian bakers in the U.S., including Jack Phillips, the owner of Masterpiece Cakeshop in Lakewood, Colorado, have also refused to make gay wedding cakes due to their beliefs.
Phillips is set to go before the U.S. Supreme Court, looking to overturn a 2014 Colorado Civil Rights Commission ruling in which he was found guilty of discrimination for refusing to use his talents for the same-sex wedding of Dave Mullins and Charlie Craig in 2012.