Christian Bakers Fined $135K for Not Working Gay Wedding Continue Fighting for Their Freedoms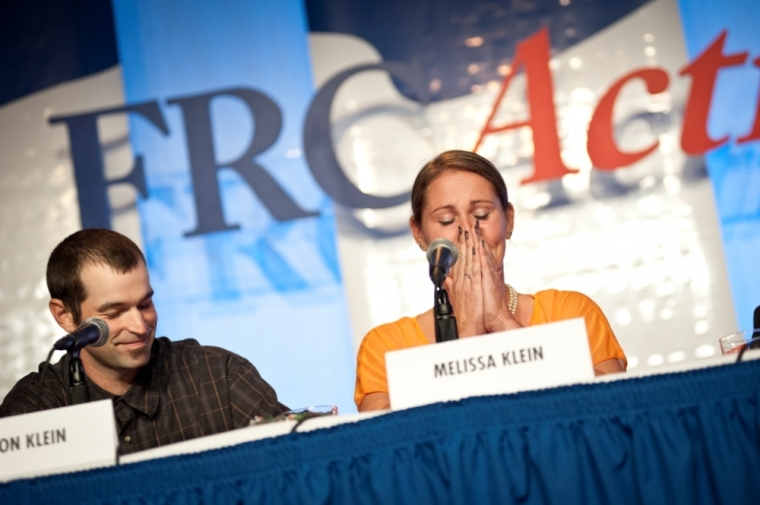 The Christian owners of an Oregon bakery who were fined over $135,000 by a state government agency for declining to bake a cake for a same-sex wedding are continuing to fight for their First Amendment rights.
After Aaron and Melissa Klein of Sweet Cakes by Melissa were fined by the state's Bureau of Labor and Industries $135,000 last year for declining to bake a cake for the wedding of Rachel Bowman-Cryer and Laurel Bowman-Cryer in 2013 on the grounds that it would have violated their religious convictions, the Kleins paid their fine last December and filed an appeal with the Oregon Court of Appeals in April in hopes the court would rule that the government agency violated their religious freedom rights.
In response to a brief defending the government's actions against the Kleins filed to the Oregon Court of Appeals last month by state lawyers, the Kleins filed a reply brief to the court earlier this month.
In filing the brief, the Kleins were aided by lawyers from the First Liberty Institute and former White House Counsel for President George H. W. Bush, Boyden Gray.
"This case is, first and foremost, about whether Oregon has commandeered individuals' liberty to compel them — upon pain of crippling financial penalties — to facilitate the multitude of events in which 'persons' protected by (discrimination law) might participate," the brief states. "Such events might be weddings, as here, or religious rituals, sex-segregated club initiations, or abortions."
"So the court must determine: Has Oregon, for example, compelled Catholics to sculpt totems for Wiccan rituals? Feminists to photograph fraternity initiations? Pro-life filmmakers to video abortions?" the brief asks. "It has not, and that ends the case."
The state government's brief argued that the government's final order forcing the Kleins to pay $135,000 did not violate their First Amendment rights and argued that refusal of service is not protected under the First Amendment. The brief continued by explaining that the agency's order did not target the Kleins' religious beliefs, but rather their discriminatory conduct.
Even though the government believes that it has not violated the Kleins' religious liberties, Gray said in a statement that "the First Amendment prohibits government compulsion of art and of speech."
"We must ensure that freedom of speech and religious expression is preserved for all Americans," Gray, who is a former ambassador to the European Union, asserted.
First Liberty Institute President Kelly Shackelford added: "No one should be forced to contribute to the celebration of an idea that goes against his or her beliefs."
The Kleins are not the only Christian wedding vendors who have been fined for acting in accordance with their religious convictions and declining to work a same-sex wedding.
Christian grandma florist Barronelle Stutzman, the owner of Arlene's Flowers in Richland, Washington, was fined $1,001 last year and deemed liable to pay court costs and legal fees incurred by the gay couple who sued her for declining to service their wedding, which her lawyers said could cripple her financially.
Earlier this year, owners of an Illinois wedding venue were fined over $80,000 by the state's Human Rights Commission for declining to host the wedding of Todd and Mark Wathen in 2011. Despite the fine, the owners of the venue still vowed never to host a gay wedding.
In 2014, a New York Christian couple were fined $13,000 for refusing to allow a same-sex couple to have their wedding ceremony on their family farm, which they live on and also rent out for events.