Christian Mom Cancels $6K Disney World Trip, Boycotts Company Over Gay Character in 'Beauty and the Beast'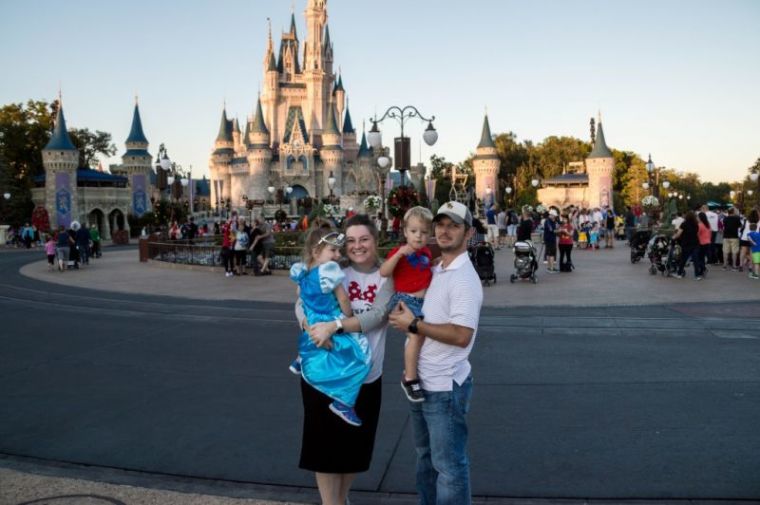 A conservative Christian mother from Louisiana has cancelled her family's $6,000 trip to Disney World and boycotted the company over what she sees as its aggressive promotion of an LGBT agenda after it announced the live action version of "Beauty and the Beast" would include an "exclusively gay moment."
The mother, Brooke Poston, explained on her blog This Modest Mom that she was looking forward to her Disney World vacation to see the production but "our plans to see the live action 'Beauty and the Beast' as a family were brought to a screeching halt when we found out the news that Lefou had 'feelings' for Gaston in the new movie."
She explained that while she loves all people and respects everyone's lifestyle choices, she's opposed to what she sees as Disney's aggressive targeting of children.
"Disney isn't just aiming their efforts toward parents of Disney-aged children anymore. They are pointing a desperate finger at the innocence of our youth. Disney is targeting our youth like they're aiming at big game on a corporate hunting trip," Poston wrote.
"They are banking on corrupting the purity of a child's mind for the 1 percent. They are no longer making watching a choice, but by forcing it to become mainstream, Disney is telling the conservative family, the Christian public, that they're views hold no worth. In jest, they're subtly encouraging you to conform your ways. (Mark 13:22)," she explained.
Prior to pointing out Disney's targeting of children in their productions, she explained how she cut her cable service because she refuses to pay for programming that doesn't align with her morals.
"Some of the most popular shows ('Scandal,' 'How to Get Away with Murder,' 'Quantico,' 'This Is Us,' 'Greys Anatomy,' 'The Good Wife,' etc.), most of which air on ABC, a Disney owned network, I quit watching them all when they revealed exclusively LGBT characters. We cut our cable years ago because we refused to pay for things we weren't able to watch. Even the commercials make me cringe," she said. "I'm not paying for simple entertainment that doesn't accurately align with my personal beliefs."
She urged parents to join her in signing a petition asking Disney to reconsider its direction.
"At this point, Disney is proudly looming over your morals and values and eerily cackling like a villain in one of their own classic fairy tales. ... If you feel like me, maybe you'll want to take a stand too. I encourage you to sign this petition asking that Disney reconsider their position. Boycott Disney and let them know that your values, morals, and beliefs mean something too," she said.
Since making her declaration last week, Poston said she received a lot of reactions, including death threats and support from members of the LGBT community.
"There is no denying that the majority of reactions to my post have made me out to be a person filled with hate and disgust. Most of the responses I have received have been nothing short of vile and extremely crude. I've received death threats, ill wishes in regards to my family and those who affiliate with me (regardless of their views), and a number of other malicious attacks. Even through this, my views have not changed. I have never seen such contempt and hostility come from a group of people before. This is not acceptable, no matter who is on the receiving end," she noted in a statement on Facebook.
"Despite the difference in opinions of people all over the world, the beauty comes when we can realize that we may not agree, but we can still be compassionate. But love and compassion do not mean approval. 'For God so loved the world, that he gave his only begotten Son, that whosoever believeth in Him should not perish, but have everlasting life' (John 3:16).
"But make no mistake, He also came to reprove the world of sin (John 16:8). On a daily basis, I come in contact with things that I don't agree with, I cannot be sheltered by that. Disney's choice made me feel forced to react. I have a right to not be entertained by ways that don't align with my religious convictions. This does not make me malevolent," Poston explained.
"Know that whoever you are and however you identify, I have only compassion for you. We may not be fighting for the same things, we may not be fighting together, but know that we are each passionate for our own causes. Because of this I cannot be silent," she ended.