Christian Mother of 7 Hacked to Death in Nigeria While Preaching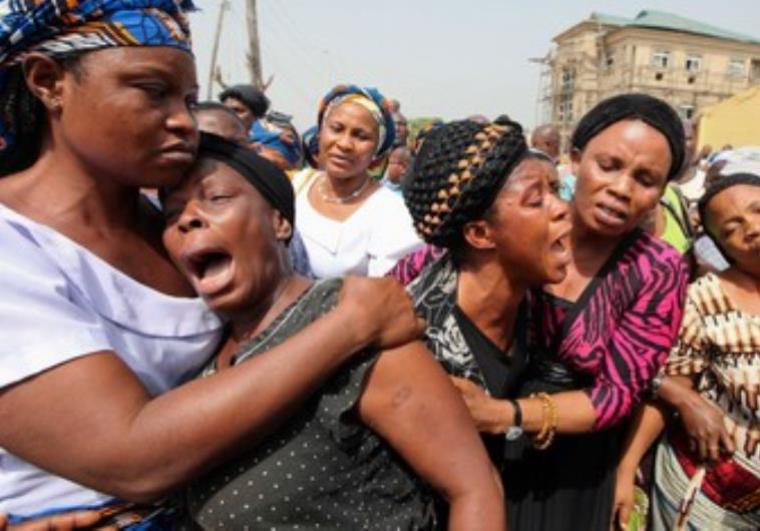 A Christian mother of seven was hacked to death by suspected Muslim radicals in Nigeria and her mutilated body was discovered in a pool of blood along with a Bible and megaphone she used to preach every morning.
According to local reports, 41-year-old Eunice Olawale, a pastor at the Redeemed Christian Church of Nigeria and an evangelist, was murdered in the early morning hours on Saturday while she was out evangelizing near Nigeria's capital of Abuja.
Olawale's husband, Olawale Elisha, told local media that his wife had left their home around 5 a.m. Saturday morning to preach in the neighborhood but she never returned home.
Elisha, who is also a pastor with the Redeemed Christian Church of Nigeria, explained that his wife had told him before that she had previously encountered some people from a nearby mosque who took issue with her preaching.
"My wife always goes out early in the morning for 'Morning Cry.' There was a particular day she went out and she told me that there is a mosque at the back where they commented about what she said. So I just cautioned her," Elisha said, according to Vanguard. "This morning (Saturday), she went around 5 a.m. and I was still in bed because we did vigil which she participated in for a while because of the Morning Cry she planned to undertake."
Elisha said he didn't realize anything was wrong until two of his sons went out to play soccer and heard other boys talking about how some "hoodlums had butchered a woman who was preaching early this morning."
"So, when I heard this, we trekked down in the shorts I was putting on and we didn't see anybody but we saw blood on the ground. I asked a policeman around and he said it is true but that they had taken her to Phase 4 Police Station," the husband added. "I went to the station with my children and when we got there, I saw the lifeless body of my wife at the back of the police van and from there, she was taken to the mortuary."
According to Vanguard, not only was Olawole stabbed in the stomach and cut in the legs but her throat was also slit. When her body was discovered, her head was reportedly resting on the top of her Bible.
Olawale's oldest daughter, Jessica Olawale, told Vanguard that they slaughtered her mother "like a chicken."
"Everybody is just saying it is well, nobody can understand how I feel," Jessica Olawale said. "She is innocent; she didn't do anybody any harm. She uses just her megaphone and Bible; just preaching. They just killed her like a chicken and left her there."
The Federal Capital Territory police have arrested some suspects who they believe were involved in the killing.
"We have made some arrests and they are helping in our investigation," police spokesman Anjuguri Manzah told Vanguard. "The commissioner of police has ordered the homicide section of the command to take over the investigation of the case."
One unnamed resident of the area told Vanguard that the neighborhood grew accustomed to hearing Olawale preach early every morning. However, Saturday was much different because the preaching stopped and the screams began.
"This is a woman who preaches every morning. She always admonishes people to repent and that the Kingdom of God is at hand," the resident said. "We heard someone shouting the blood of Jesus and we noticed that the rate at which the person was in the pool of her blood."
With frequent violence committed against Christians and the rise of Boko Haram in the northeast Borno State, Nigeria is ranked as the 12th worst country in the world when it comes to the persecution of Christians, according to the 2016 Open Doors USA World Watch List.
Just last Month, the wife of a Christian pastor was stabbed to death at a market in Kano after she was accused of insulting the Muslim prophet, Muhammad.