Christian Mother Asia Bibi Sentenced to Hang for 'Insulting Islam' May Get Final Hearing in June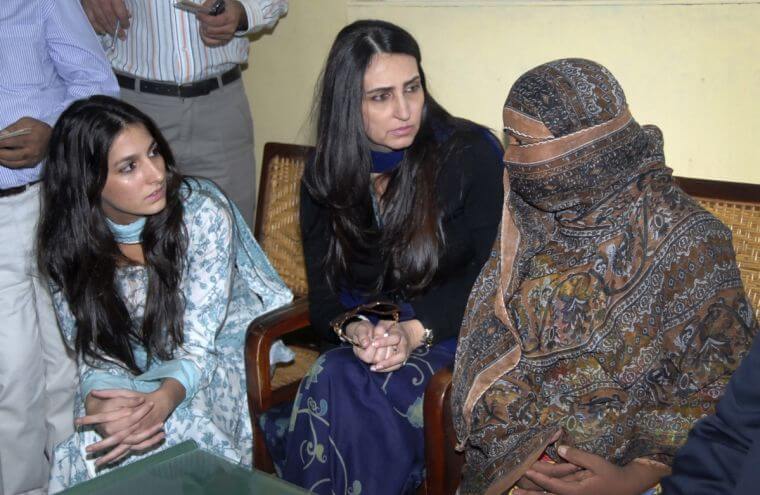 Asia Bibi, the Christian mother of five in Pakistan who for seven years has been facing death by hanging for allegedly insulting Islam, could face her final Supreme Court hearing in June, her lawyer has said.
Saiful Malook, Bibi's lawyer, told Asia News in an interview on Thursday that "the request to reopen the hearing was submitted to the president of the Supreme Court of Pakistan last week."
He added: "The case continues to be postponed due to the problems of this country. We are in the midst of a continuing war between Islam and Kufr (infidels). But our hopes for her release are many."
As International Christian Concern noted, Bibi's case is one of "the most controversial blasphemy cases" in the world, with persecution watchdog groups calling it "the best example" of how blasphemy laws can be abused.
Bibi was accused by a group of female Muslim co-workers of insulting the Islamic prophet Muhammad back in 2009, and in 2010 was handed a death sentence despite pleading her innocence.
Since then she has been on death row and the subject of numerous campaigns from watchdog groups calling for her freedom. Her final appeal hearing was initially scheduled for Oct. 16, 2016, but the hearing was postponed after one of the judges pulled out of the case.
Groups such as ICC, and others, like Open Doors USA, have noted that Pakistan's blasphemy laws are often used to target Christians, who are a distinct minority in the country, and are used as a means to settle personal feuds.
"She's lived under daily threat from extremists, fellow prisoners and even prison guards. She's watched her five girls grow up from behind prison bars. She wakes up not knowing if she'll die in prison or if she'll be reunited with her family," David Curry, president and CEO for Open Doors USA, wrote in an op-ed for The Christian Post in February, referring to Bibi's ordeal.
"Over the span of seven years, it can become easy for us to forget to pray for our persecuted brothers and sisters like Asia, but it's important for us to use reminders like this to ensure we pray without ceasing," Curry added.
The Lutheran Bishop of Mardan, the Rev. Jimmy Mathew, attested in the Asia News article that both religious minorities and the majority suffer due to the country's blasphemy laws.
"There is total fear and confusion," Matthew said, adding that "the courts and the security forces become active only when violence has already occurred," while "people like Asia Bibi continue to suffer despite the evidence being insufficient. The blasphemy charge is itself a death sentence."
Bibi's plight also prompted United States Sens. Rand Paul, (R-Ky.) and Chris Coons (D-De.) to introduce a joint resolution earlier in April calling for Pakistan to release the Christian mother.
"No one, in any part of the world, should be victimized for freely and peacefully practicing his or her beliefs. I urge the government of Pakistan to release Asia Bibi and work to promote an inclusive and pluralistic society, starting with reforming its blasphemy laws," Coons declared.
Paul added: "My heart goes out to Asia Bibi as she continues to endure her unjust imprisonment in Pakistan. It's time for Pakistan to immediately release Asia Bibi and put a stop to the persecution of Christians and other religious minorities."