Christian Mt. Everest Climber Who Survived 29,000-ft Descent Says Marriage Is Like Climbing Mountains, You Must Surrender to God
Christian Mt. Everest Climber Who Survived 29,000-ft Descent Says Marriage Is Like Climbing Mountains, You Must Surrender to God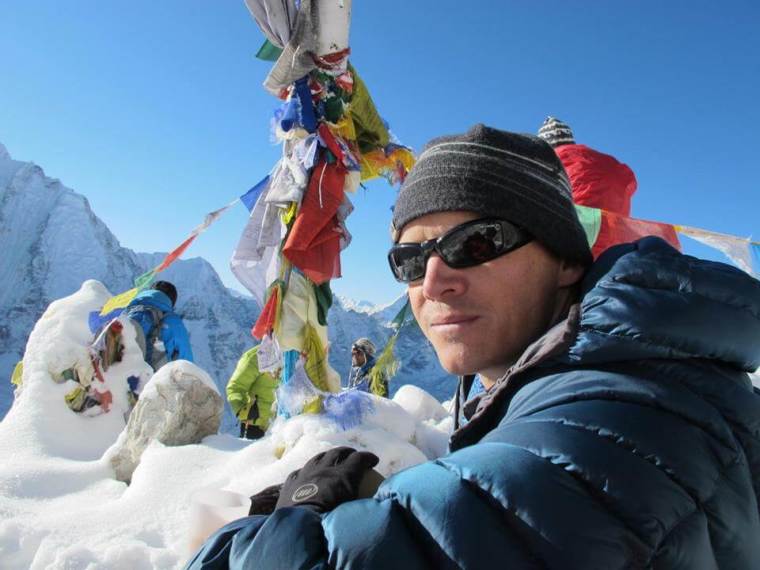 For a climber, being "snow blind" on a mountain top is never a good thing, and being snow blind atop Mt. Everest, the tallest peak in the world, is as bad as it gets. But that's exactly what happened to Christian mountain climber Brian Dickinson who survived what is considered "the death zone" against all odds.
"[In] My struggle on Everest where I was blind and alone, I could have given up and became a permanent fixture on the mountain," Dickinson said in an interview with The Christian Post.
Snow blindness is a condition in which the surface of the eye, or cornea, is burned, which usually happens at high altitudes on highly reflective snow fields. After Dickinson's snow goggles cracked during a fall, his eyes were exposed, ultimately leading to his snow blindness.
In dire weather conditions at the death zone, Dickinson attempted to descend Mt. Everest, his every step was truly one of blind faith. But giving up would mean freezing to death.
Hand over hand, relying on senses other than sight, Dickinson's descent to reach high camp took more than double the time it should have, and some in the camp feared the worst.
"On my way down I never once felt alone," said Dickinson to CP. "I felt a calming presence around me. I now know it was the Holy Spirit. I eventually ran out of oxygen, and after 33 hours of climbing — from the day prior to that point — I dropped to my knees and surrendered to God. It was then that I witnessed a miracle, which got me down the mountain to safety."
Dickinson's frightening experience is "an extraordinary story of faith," said Jeremy Wiles, CEO of KingdomWorks Studios, which is producing an 11-minute documentary feature on the climber who's also a former six-year Navy rescue swimmer.
The documentary short was recently filmed using a crew embedded with Dickinson along a 40-mile trek into remote British Columbia to Mount Waddington supplied with equipment and survival gear.
Wiles said in a statement shared with CP that Dickinson's story is about "Getting up and trusting God with your next step without knowing what lies ahead. God can move mountains, but many times He gives us the strength to climb."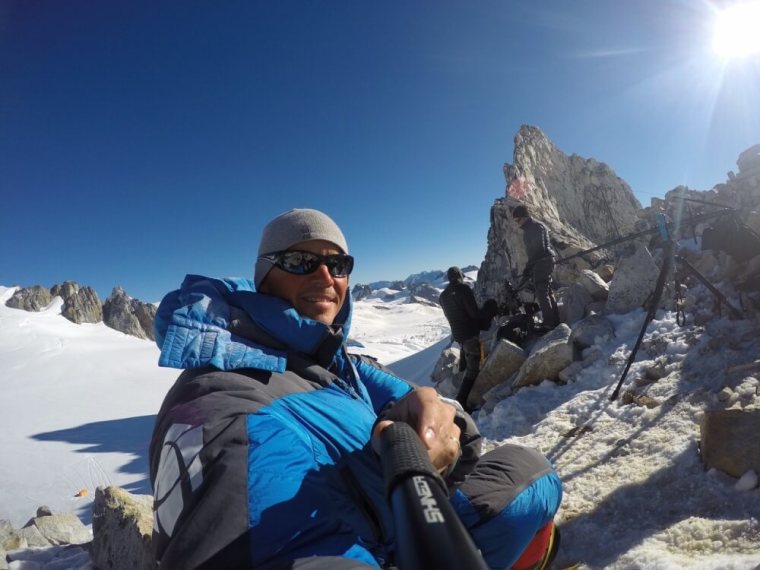 Dickinson said his struggles on Everest can be likened to the challenges many couples face in their marriages.
"In marriage, most people tend to take a self-centered approach. On Everest I tried so hard to do it myself. It took me reaching my breaking point to finally surrender and give it to God," He told CP.
"It's the same in marriage. Rather than focusing on our needs, we need to take a Christ-centered approach. When a man and woman put their selfish needs aside and align on a common goal of Christ, they begin to gel and walk out the life God created them to live," Dickinson continued.
"Through my moment of survival, crawling down from the highest point on Earth with no vision, it was the Holy Spirit leading me down. I overcame obstacles, which should have easily killed me, but I was being led to safety."
"In marriage we are faced with obstacles every day and so many human behaviors get in the way of our progress," he said. "God equips us with the necessary tools to overcome any earthly obstacle, but we have to be willing to listen and follow the will of the Lord. Even if it's not our desire, it's His will and it will lead to a stable and satisfying marriage."
The mountain climber is happily married to his wife, JoAnna. The couple has two children, Jordan and Emily. The family lives in Snoqualmie, Washington.
KingdomWorks said in a statement to CP that "Dickinson's story of making it down from Everest reminds us that we have a God who is bigger than any mountain that we might face, whether it is physically being stuck on the top of the highest mountain in the world, or feeling stuck in our marriage and unsure of how we will ever make it through.
"Even if we can't see the path ahead, we can trust that God will guide us every step of the way. Such a powerful reminder of Jesus' Words in Matthew 19:26: 'With man this is impossible, but with God all things are possible.'"
Dickinson concurred, adding, "Many marriages struggle because of all the [challenges] that are presented, and too many people give up. Many hope that God will move the mountain for them, but God actually gives them the strength to get over the mountain. We just have to trust in Him."