The Christian Post's Top 10 News Stories of 2016
7. Resistance to LBGT Agenda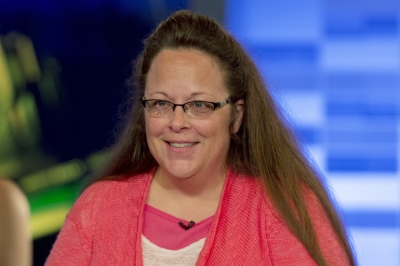 After the U.S. Supreme Court ruled 5–4 in 2015 that gay marriage is legal nationwide, battles over same-sex marriage and religious freedom continue to be at the forefront of concerns for Christians. 
Kim Davis, the Kentucky clerk who last year spent six days in jail for refusing to issue marriage licenses to same-sex couples, scored a religious liberty victory courtesy the state government.
Kentucky Senate Bill 216, which took effect on July 14, created a new marriage form which did not require a county clerk to sign it, thus giving Davis the religious exemption she sought last year.
LGBT activists experienced an intellectual blow in August when two Johns Hopkins University psychiatry professors released a detailed report undermining longstanding claims of the movement.
Authored by Lawrence Mayer, a scholar-in-residence at Johns Hopkins University's psychiatry department and Paul McHugh, a professor of psychiatry and behavioral sciences at Johns Hopkins, the heavily-footnoted report was published by The New Atlantis and challenged such claims as homosexuality being genetic and gender identity being only socially constructed.
Legal issues centering on whether or not Christian business owners should be compelled to provide services to same-sex couples continued to take place across the nation.
In April, the Colorado Supreme Court refused to hear an appeal by Jack Phillips of Masterpiece Cakeshop, Inc., who had been found guilty of discrimination by the Colorado Civil Rights Commission over refusing to bake a cake for a gay wedding due to religious objections.
In December, a three-member panel of the Illinois Human Rights Commission refused to hear an appeal in a decision compelling TimberCreek Bed & Breakfast to pay a fine for declining to host a same-sex wedding on their property.
"Citizens should only decide not to obey a law after much thought and only in extreme circumstances," said TimberCreek owner Jim Walder in an interview with The Christian Post earlier this month.
"In our opinion, forcing a small business with one employee to host gay marriage which violates the owner's sincerely-held biblical belief that marriage is between one man and one woman is an extreme circumstance, especially when marriage has been understood for thousands of years to be a union between one man and one woman."