Christian Singer Jamie Grace Reveals Exclusive Wedding Footage Kept Secret Until Now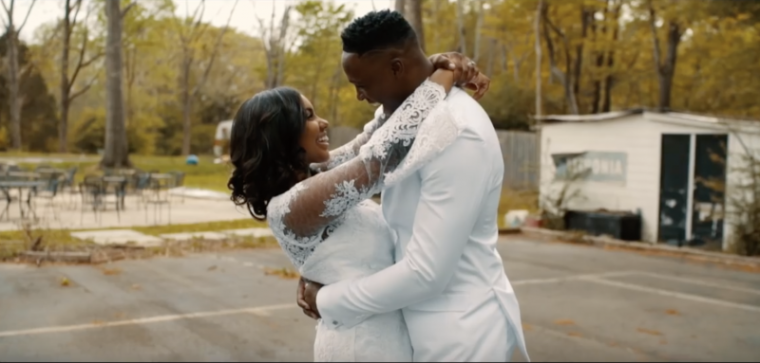 Grammy-nominated Christian singer Jamie Grace had the wedding of her dreams in April but managed to keep it under the radar. Now, her new music video for her latest single, "Wait It Out," is giving everyone an up-close look at her special day.
Grace, who wed Atlanta-native Aaron Collins (a model and actor) at North Metro Baptist Church in Lawrenceville, Georgia, on April 14, has battled Tourette's syndrome since she was 11.
The video features footage of both Grace and her husband before the wedding, when they saw each other again at the altar, and afterward.
She wrote the song for the video before she ever met Collins and felt the message was important for single people to hear.
"When I got engaged I was nervous that releasing a song about being single wouldn't make sense. But I knew that either way I wanted to have it for myself," Grace said in an interview, according to BREATHEcast. "A few weeks before the wedding, my (now husband) Aaron and I went to the studio to re-record my vocals. Contrary to the upbeat music and heavy bass line, I almost started crying the second I started singing."
"While I wrote this song about being single, nothing on this Earth has brought me greater joy than marrying Aaron. I've always sang 'Wait it Out' with confidence that my 'singlehood' was worth celebrating and my husband would be worth waiting for. Yet somehow, being married to the guy of my dreams and singing 'Wait It Out' is the icing on the cake I didn't know I needed."
Watch the "Wait It Out" music video and exclusive footage from their wedding below:
The young YouTube star first shared her stunning wedding photos exclusively with People magazine in May.
"I was more giddy than anything," the singer told People magazine of how she felt when reciting traditional vows.
The couple invited 1,500 friends, family and fans to the wedding. The church was filled to capacity with standing room only while an additional 1,000 were on a waiting list to get in since the singer opened her wedding invitation to the public.
"I was genuinely surrounded by every person who could calm any possible nerves," Grace revealed. "It was an absolute fairytale wedding and I almost couldn't believe it was happening."
The California native wore a custom-made gown by designer Johana Hernandez that featured a 14-foot train.
Her declaration of love comes after years of dating struggles.
"I always felt like I was kind of in a limbo when it came to dating and telling guys that I had Tourette's because it wasn't something life-threatening, and it wasn't something that I, in a dating relationship, really needed them to do anything," she told Essence in March.
The former Gotee artist-turned-indie announced in January that she was engaged to Collins after a two-month courtship.
The singer posted a photo of herself and her beau posing together and sporting the engagement ring.
"I SAID YES!" she exclaimed on Instagram.
"We met a little over a year ago. Then, my 26th birthday was the loveliest yet. It was the start of what feels like an old-fashioned courtship from a beautiful book, movie or song I couldn't compose even if I tried," Grace explained.
Grace was discovered by TobyMac in 2010 and has had a very successful career to date. Despite having Tourette's syndrome she was determined to make her dreams come true and the Dove Award-winning songwriter, musician and actress is an inspiration to many.
She has helped encourage others around the world by founding ImAFighter.org and the Jamie Grace Foundation, both of which provide resources and content to help children and families who are coping with severe illnesses and disorders.