Christian Singers Jordin Sparks, Todd Dulaney Starring in 'King Solomon Lives'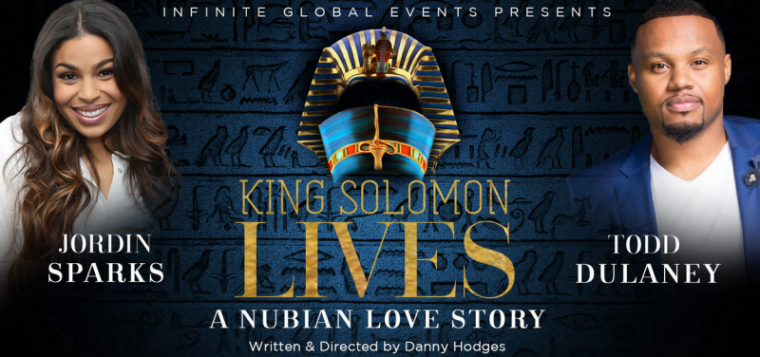 Jordin Sparks is teaming up with gospel music singer Todd Dulaney to star in a play inspired by King Solomon.
The play, "King Solomon Lives" starring Dulaney as Solomon and Sparks as Queen Sheba, will make its debut in Los Angeles, California, on May 13 for Mother's Day weekend.
A description of the play written by playwright Danny Hodges, reveals that the musical drama follows a 10-year-old boy named David who is struggling with his single-parent household after witnessing his father leave.
When tensions run high between David and his mother, the boy's grandfather comforts him with the story of King Solomon and his love for Queen Sheba until he falls asleep dreaming of the story.
"As the audience experiences David's magical dream, we are remarkably transported to the year 976 B.C.," according to a description of the play. "This time capsule takes the audience on an incredible journey to the past as this great love story unfolds before their eyes."
Dulaney took to social media to express his excitement about starring in the project alongside "American Idol" alumna Sparks.
"Soooo... we're headed to a theater near you," Dulaney wrote on Instagram.
"I'm honored to play King Solomon alongside the lovely Queen of Sheba @jordinsparks.
Sparks has showcased her acting abilities in the past, including a role in the 2012 film "Sparkle." She previously spoke to Made in Hollywood Teen about expressing herself through acting.
"I feel, as an actress, just from my own personal experience, it's kind of the same — you're becoming a character and you have to figure out how to get their emotions out," she told Made in Hollywood. "The great thing with being a musician and moving into acting is when you're singing a song, you have to figure out a way to emote what the song is saying without going over the top and also being able to do it in a way where you understand the lyrics."
The play will run May 13–14 at The Pasadena Civic Auditorium in Los Angeles, California. On May 26–27, the play will be featured at the Arie Crown Theater in Chicago, Illinois.
Tickets for the production range from $42.50- $73. For more information, click here.