Christian Teen Abducted by Sex Traffickers in India Shares How God Redeemed Her Tragedy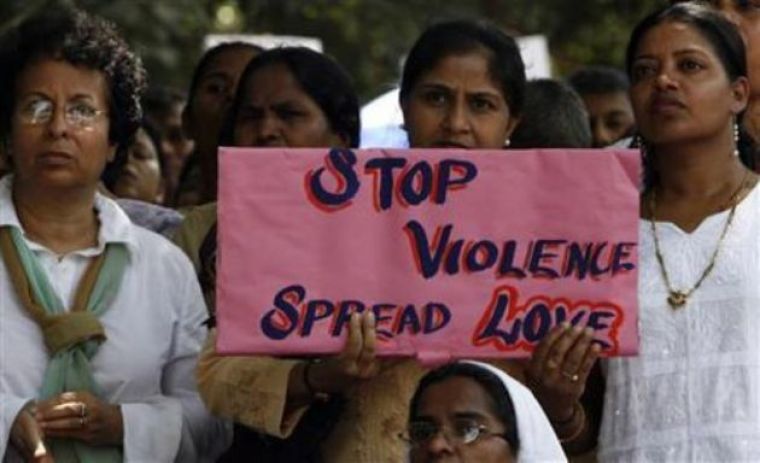 A Christian teenager who contemplated taking her own life after becoming entrapped in India's sex industry has shared how God redeemed her tragedy — and the Bible verse that restored her hope. 
Growing up in a predominantly Hindu region of India — a country that ranks as the 11th-worst nation in the world when it comes to Christian persecution, according to Open Doors USA's 2018 World Watch List — 19-year-old Reena became accustomed to persecution at a young age.
"Nobody wanted to play with me because they were Hindus and I wasn't," she told Open Doors. "When I didn't take part in their rituals, they would scold me for it. After school, I just came home and entertained myself. My parents explained that persecution will come when you are a Christian. And I wasn't jealous of the Hindus because Jesus gave me joy inside."
The discrimination Reena experienced because of her faith only escalated when she entered the workforce. After taking on a job as a teacher, the teen was told she would receive a salary of 1,500 rupees a month ($23.13), but received just 500 rupees ($7.71).
When the school stopped paying her altogether, Renna found another teaching job. Shortly after she began working, the school's headmaster invited the teen to a teachers' meeting where he offered her some Indian sweets.
"I don't remember anything after that," Reena said.
The following days, she said, were a "blur," as she was held unconscious. Open Doors notes that while this may be true, it's "more likely is that what happened to her was so terrible she doesn't want to share about the days she went missing."
At one point, Reena called her parents and told them she was being held "in a terrible place."
When police refused to act for three days, her parents went to higher police officials who gave the order to arrest the headmaster and all the staff. All were eventually released.
Ten days after her abduction, Reena recalled waking up in a train car surrounded by several teenage girls.
"They said they would help me and asked me to come with them," Reena said. "I told them to go away or else I would call the police. Then they left me alone. I still think they have something to do with my kidnapping."
In the train station, the young girl — still in shock from all that she had survived — realized she was 14 hours away from her village. She recalled seeing police officers but being too weak to walk to them. In her pocket were coins she used to call a friend to pick her up.
"I was so confused," Reena said. "Apparently, I asked her and her parents not to call my parents."
After a couple of days, Reena boarded a train and returned home where her parents met her and immediately took her to the hospital. Slowly, she began to realize what had happened to her.
"I had all these questions," she said. "Why did this happen? And why did the villagers target me of all people?"
Traumatized, Reena saw no reason to live anymore and contemplated taking her own life. Amid her depression, the teen attended a Christian church service. As the pastor prayed, Reena said she began to feel her physical pain and depression lift.
"I was really touched by God," she shared. "When I came home, I was overjoyed and shared what had happened with my Hindu friends. I wanted them to come to a similar church service and experience God's healing power in their lives."
Eventually, Reena found healing in the Psalms and Revelation 3:20: "Behold, I stand at the door and knock. If anyone hears my voice and opens the door, I will come to Him and eat with Him, and He with me."
"I realized that if I opened the door of my heart, that Jesus would come in and dine with me," she said. "So I surrendered to Him. I came to know that it was Satan who wanted to destroy my life, but God loves me. My future is very bright. I will share the Gospel with non-believers. I don't expect more problems."
While Reena is optimistic about her future, Open Doors warns that she will continue to face persecution, as the school headmaster has vowed to exact revenge. Still, the ministry continues to support the teen, providing both spiritual and physical assistance to her and 2,500 other believers in India.
"I want to thank all those who supported me through prayers, financial help and standing with me in all my struggles and whatever I went through," Reena said. "It is because of all your help that I am a recovered person today."
A 2016 report from New Delhi found a 25 percent rise in India's human trafficking, with 20,000 women and children trafficked in the country that year.
In efforts to crack down on the fast-growing crime, India's cabinet last month approved a tough new law under which traffickers could be jailed for 10 years or, in some cases, for life. If convicted, they could be fined at least 100,000 Indian rupees ($1,534).
The Trafficking of Persons Bill, which is expected to be voted into law by parliament, also mandates the establishment of special courts to expedite trafficking cases, setting a deadline of one year for trial and repatriation, according to Reuters.
Under the new law, a rehabilitation fund will also be set up to help victims rebuild their lives and they will be allowed to give evidence through video conferencing without being identified.
"Human trafficking is not only a social evil, it is a crime against humanity," President Ram Nath Kovind said in a statement praising the passage of the bill. "It is a curse not only for the country but for the whole humanity."