Christian Villagers Beaten, Tormented in Eastern India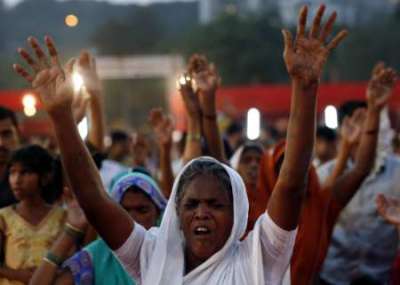 Christians in the eastern region of India were tortured and beaten for hours in their village by local police officers last month, Barnabas Fund reported Tuesday.
Around 60 officers surrounded Phatachanchara village at 2:30am and forced their way into the homes of Christians on Feb 15.
The Ganjam district village in Orissa, India was in an uproar and a four-year-old boy received a fractured hand after an officer stepped on it, according to Barnabas Fund, an organization that supports persecuted and oppressed Christians.
One of the villagers apprehended by officers was tied to a tree and assaulted while crying out to God. "O God, O Jesus. Alleluia, Alleluia," they cried, causing the police officers to become more angry and violent, according to the U.K.-based organization.
The Christian Post attempted to contact Patrick Sookhdeo, international director of Barnabas Fund, for comments, but was unsuccessful.
Barnabas Fund reported that Pastor Jahaya Mandal was interrogated by police after comingforward to see what all of the commotion was about. While a church deacon, Korneil Roita, was then tied to a tree and severally beaten.
Mandal, Roita and six other Christian villagers were led out of the village, bound at the hands at 6:30am. Police forced them to walk on thorny, rocky ground for over two miles with bare feet. This caused great pain and bleeding in the tired feet of the villagers. They were then taken to another village over seven miles from their own.
Christian Indians are at risk of attack, typically by Hindu extremists, because they are the religious minority in the region. Police often do not intervene, but they rarely take part in the attacks. In a note on Persecution.org, International Christian Concern stated that police killed five Christians in the state that the villagers were tortured.
The note read, "Violent attacks against Christians in India, including assault, battery, rape and murder, have long gone ignored or under-investigated by local police officials. In the worst cases, local police officials have crossed the line from passive acquiescence to active participation in attacks on Christians. According to a report from India's eastern state of Orissa, five Christians were killed by local police after being mistaken for Maoists."
Odisha is home to over 36 million people and is primarily Hindu.