Christian Woman Fired After Revealing She'll Vote 'No' in Australia's Gay Marriage Referendum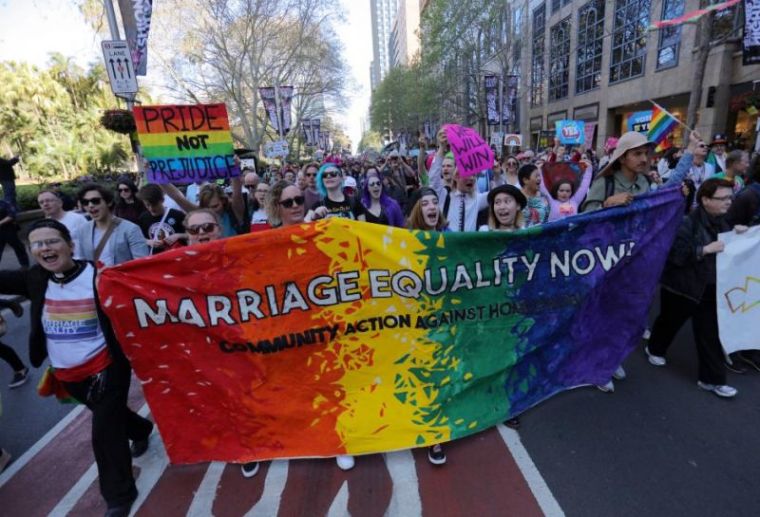 A children's entertainment company has found itself at the center of a controversy after it fired a Christian contractor simply because she posted on Facebook that it's alright to vote "no" in Australia's national referendum on same-sex marriage.
As citizens of Australia participate in a postal survey this month asking if gay couples should be allowed the right to marry, a woman known only by her first name, Madeline, took to her Facebook page in late August to reveal that she planned vote "no" against the measure.
The Australian Broadcasting Corporation-owned news outlet Triple J Hack reports that Madeline added a Coalition for Marriage "It's OK to Vote No" filter to her Facebook profile photo on Aug. 29, a filter that was set to expire just days later.
This past Sunday, weeks after posting the filter, she was informed via Facebook message that she had been let go from her job at Capital Kids Parties in Canberra.
"It was something morally I couldn't get past," Madeline's boss, Madlin Sims, told Hack.
Madeline told Hack that around the same time she applied the Facebook filter to her page, Sims' brother, who was a friend of hers, warned her and told her to take it down. However, she refused and was accused by Sims of verbally attacking her brother.
It was on Sunday that Madeline had her second shift with the company, which would also turn out to be her last with Capital Kids Parties.
"She was very subtle about [her views on same-sex marriage], but any level of it I won't tolerate it," Sims explained.
Madeline was told in a Facebook message from Sims that she could no longer work for her.
"Homophobic views being made public are detrimental to the business and don't align with my personal values and morals as owner of the company. We have gay staff members, gay customers," the Facebook message reads, according to a screengrab.
"You are entitled to your opinion of course, but publishing something which is extremely hurtful and the core of a sometimes deathly emotional pain for members of the gay community and their friends isn't okay," Sims' message continued. "I respect you have your own morals, as does everybody any (sic) I'm sorry to let you go but we can't have you on any further."
Madeline defended her post in the interview with Triple J Hack.
"I'm not afraid to stand up for my beliefs and being a Christian," Madeline said. "Everyone else is putting up these 'Vote Yes' filters, and there's one filter that says 'It's OK to Vote No.' I thought I don't have to put this up but I don't have to stay silent."
Sims later clarified why she decided to fire Madeline in a Facebook post.
"Today I fired a staff member who made it public knowledge they feel 'it's okay to vote no.' Advertising your desire to vote no for SSM is, in my eyes, hate speech," she asserted.
"It's not okay to vote no. It's not okay to be homophobic. This isn't a matter of opinion or even religion. It's a matter of love & livelihood of real human beings," she added. "Freedom of speech is there for a reason and so are consequences."
Sims' post concluded that having someone on her staff who is "out & proud" about her Christian beliefs on marriage is "a risk for the wellbeing of the children we work with."
Madeline refuted Sims' claims that she was homophobic in her interview with Hack, stating that she has many gay and lesbian friends.
"If I'm attending a party and dressed up as Minnie Mouse and the child there is same-sex attracted, I'm going to love that child like I would any other child," she stressed. "I love everyone, I'm not a hateful person at all."
Sims even admits that her firing of Madeline was "bigoted."
"What I did was bigoted," she said. "But is it worse for me to be a bigot fighting for the rights of homosexuals or is it worse for her being a bigot telling people they can't have equality?"
The Guardian reports that Sims' firing of Madeline "may have broken the law" under Austrailia's ACT Discrimination Act, which protects religious and political beliefs.
According to The Guardian, ACT Human Rights Commission discrimination commissioner, Karen Toohey, confirmed that Sims' action of firing a contractor because of her religious and political beliefs may be unlawful.
"You can bring a complaint on that basis, it's a decision for the ACT civil and administrative tribunal [to determine]," she explained.
An employment lawyer for the Sydney-based law firm Henry Davis York named Scarlet Reid told Hack that because Madeline didn't have a formal agreement in place with Sims, she would be considered a casual employee, which requires a six-month qualifying period in order to bring an unfair dismissal claim.
"It doesn't sound like this particular person would have the necessary requirements for an unfair dismissal claim," Reid said. "Another employee with longer tenure in ordinary circumstances may well have an unfair dismissal claim if terminated on this basis."