Christian Woman in Mali Says Muslim Family Sent Jihadists, Killed Husband, Beat Son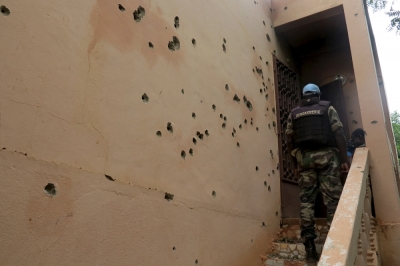 A Christian woman in Mali is offering forgiveness to the jihadists who killed her husband and were sent by her own Muslim family to punish her for leaving Islam to follow Jesus Christ.
Naomi, as the woman is named in an Open Doors USA report, said that her Egyptian Muslim father moved the family to the Mali city of Timbuktu to spread Islam when she was small, but he died when she was 8 years old.
At first, she was opposed to the Christian faith, but at age 12 she felt drawn to Jesus Christ after interacting with other Christians at school.
Her Muslim family disowned her but she was taken in by a local missionary family, who treated her as their own daughter.
When the missionaries left, Naomi was forced to go back to her Muslim family, where she was harassed every day for her faith.
When she was 16, she met a Christian man from Belgium, and the two decided to get married despite the mockery both faced from other Muslims. The couple had two sons, Ibrahim and Youssouf.
On a number of occasions, she said that her Muslim family sent jihadists to their house to kill them or frighten them.
"Their plans never worked. But one day, while my husband was on a business trip, he was gunned down. He was killed for his faith, and for marrying an ex-Muslim. His colleagues delivered the terrible news to me. I have no idea what happened to his body," Naomi revealed.
Years later, in 2012, Naomi and her two sons were forced to flee as Muslim jihadists began killing Christians in the Tuareg Rebellion, and they made their way to Timbuktu.
Youssouf, a teen at the time, was kidnapped by the radical Islamic group Ansar al-Dine when it invaded their home.
"Ibrahim, my second son, was terrified," Naomi recalled. "He held on to me and kept whispering, 'Jesus help us, Jesus help us.'"
The mother said that she prayed and prayed for her son to be released.
"I was on my knees all the time, pleading for the Lord to protect my son," she said.
"Youssouf acted deaf and dumb in front of his abductors. They whipped him severely but released him after two days."
As the family was terrified, they fled to Bamako, the capital, where they would be helped by Open Doors and a local church with rent money for an apartment.
The Christian woman said she is moving forward by forgiving those that caused her so much suffering.
"I have to show love even to the worst of my enemies. Who knows? I may draw them to Christ despite their attitude towards me. Christians are people who love their enemies — their haters — as brothers," she said.
"That is how we can win them for the Kingdom."
Mali's population is predominantly Muslim, according to the CIA World Factbook. Christians make up only 2.4 percent.
Systematic attacks on Christians have continued beyond the 2012 violence. Catholic bishops said in a 2017 Crux report that they are "deeply worried" that the government is failing to protect believers, who have been targeted in the north by jihadists.
"We have no security program of our own and we rely on the authorities to provide protection and find solutions," said Monsignor Edmond Dembélé, secretary general of the bishops' conference.
"On previous occasions, the government has deployed military units in our parishes. But this still hasn't been done against these new attacks."