Christians in Baghdad Remain Hopeful During Christmas Amid Genocidal Threats
With the holiday season in full swing, it is easy for many people to get caught up in frivolous stresses such as shopping for gifts or travel headaches. However, often forgotten by many in the West is the ongoing suffering and persecution of Middle East Christians, especially in the war-torn countries of Iraq and Syria.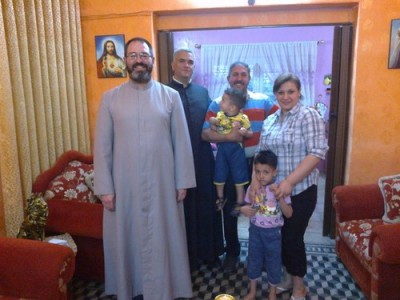 "There is a very big ignorance of what is happening here, it is a genocide and nobody is doing anything for them [Christian refugees]," Father Luis Montes, a Catholic priest who presides the small community of Iraqi Christian refugees in Baghdad that were displaced by the Islamic State, told JNS.org.
Last year the Islamic State made international headlines for its sweeping assault on areas in northern Iraq, including conquering Iraq's second largest city, Mosul. Amid this assault, hundreds of thousands of Christians — most of whom have lived in the region for thousands of years and are heirs to the former Assyrian Empire of biblical fame — were forced to flee from their homeland or face forced conversion to Islam or even death.
According to most estimates, there were between 1.3 and 1.5 million Christians in Iraq prior to the U.S. invasion in 2003, now many believe only 400,000 or even less still reside inside the country, with many as displaced persons living in camps in Iraq's Kurdistan region with smaller numbers in southern Iraq and Baghdad.
"Because of the invasion of the Islamic State and the coming of refugees to this city [Baghdad], I am also working with them and helping live their life as normal as possible," Montes told JNS.org.
"The community I serve here in Baghdad is small, because a lot of Christians have left the country."
The decision on whether or not to stay inside Iraq for many Christians is sometimes made simple, especially for those living in Baghdad, which is one of the most dangerous cities in the world.
"We had 128 bombing attacks alone in Baghdad in October," Montes said.
Father Luis Montes, like Pope Francis, originally hails from Argentina. He has been working in the Middle East for several years, including in Egypt, and has been in Iraq for the last five years as part of the Institute of the Incarnate Word, a Catholic religious institute founded in Argentina in the mid-1980s that has approximately 1,900 members who currently serve in 38 countries.
According to Montes, 135 Christian families, mainly from Mosul and the Nineveh Plains region, have been living in the refugee camp known as the Virgin Mary in Baghdad. Using donation money that has been raised through social media outreach and elsewhere, they have been able to purchase 150 caravans or trailers as homes for each family.
"We buy them different things such as refrigerators, stoves, beds, in order to let them have a life that is as normal as possible," Montes told JNS.org.
However, aside from providing for the refugee's basic needs, Montes said that one of his proudest accomplishments was the construction of a simple church that serves as a place to hold Mass as well as educational and community center for the refugees with funds provided by the Catholic charity group Aid to the Church in Need (ACN).
"Aid to the Church in Need is grateful to be in a position to support the vital work of Father Montes," Joop Koopman, communications manager for ACN, told JNS.org.
"Much of the focus of Catholic, Christian and secular media is on the displaced Christians in Erbil, Kurdistan, while there are pockets of embattled Christians in various parts of the country who don't quite get the attention they need. The camp overseen by Father Montes is a vital life line in the Iraqi capital, where Christians just a decade ago were plentiful and lived in relative harmony. Today — to the discredit of the Iraqi government that at least holds power in Baghdad — Christians enjoy very little if any genuine protection and few liberties guaranteed them on paper."
Amid this holiday season, Father Montes said that he hopes more people in the West will become aware of the suffering of the Christians in Iraq.
"While most of this violence was between the Sunnis and Shia Muslims, the Christians as a minority are suffering the most. Anyone who wants to kill a Christian could do it with impunity," Montes said.
While Montes appealed to Christians and others in the West to pray and provide donations to this community, he also made the request that people give charity in their own houses.
"This could seem strange but it is important," Montes explained. "Because what is happening here is hatred in the hearts of these men [the Islamic State]. This stupid war is made because some people don't care about others and some people hate others, so we have to repay with good. We have to be better in our own homes with our family, this is the only way for the future."
Despite the bleak reality, Father Montes says he and his small community of Christian refugees remain hopeful for the future due to their faith in God.
"In a human point of view it is difficult to have hope, because of the suffering we see every day, but of course we have hope in God and that God can change hearts.
"I see the Christians in Iraq, even though they lost everything, they have solidarity between them. They even have joy. I sometimes see more joy in our camp in Baghdad than even other cities in the West, because really these people have a full life," Montes said.
"They lost everything, but they haven't lost contact with the one who really cares and that is God."
Originally published at JNS.org.
Sean Savage is the Associate Editor for JNS.org.