Marco Rubio, Russell Moore: Pray America Can Help Persecuted Mideast Christians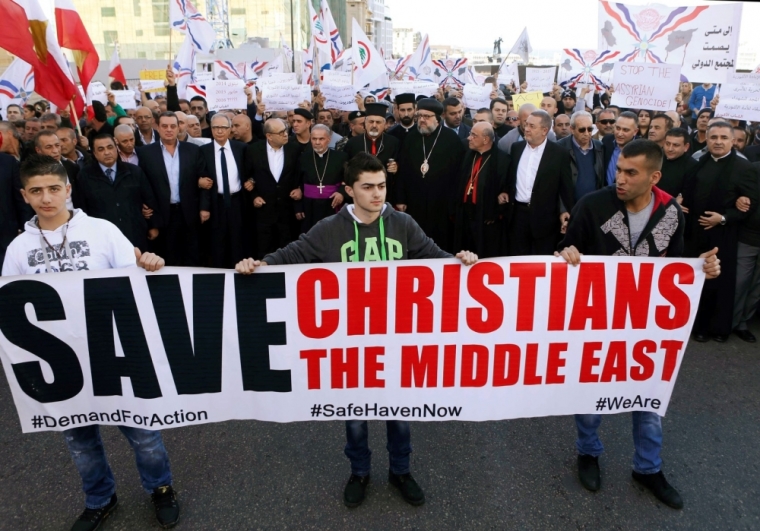 Florida senator Marco Rubio and Russell Moore of the Southern Baptist Convention have jointly written an article in The Washington Post, urging Christians and U.S. officials to observe this Christmas season with a sense of burden for the persecuted Christians "in the land of Jesus's birth."
Due to the scourge of radical Islam in the Middle East, "some churches that have existed since the Book of Acts are on the brink of ruin," Rubio, a Republican presidential candidate, and Moore, who heads the Ethics & Religious Liberty Commission of SBC, write, referring to violence by the Islamic State and other jihadist groups, which seek religious cleansing of the Christian minority.
"Their tactics are to bomb churches or convert them to mosques, to violently drive Christians and other minorities from their homes, force conversions to Islam, or require compliance with Islamic apostasy and blasphemy codes," explain Rubio and Moore, adding that some repressive governments are also persecuting Christians in the Middle East and around the world.
The U.S. State Department is ready to designate the terror of Islamic State, also known as ISIS or ISIL, against the Yazidis as genocide, but they have no plan to do so for Christians who are being targeted by the terror group in Syria and Iraq, the two complain.
Political leaders, they add, should have the "courage to hold adversaries and allies alike" to a high standard –including China, Saudi Arabia and Pakistan – and listen to the counsel of the U.S. Commission on International Religious Freedom.
Referring to ISIS, which is seeking to establish a caliphate in the Levant region and beyond, Rubio and Moore say, "Dismantling this murderous terrorist organization through force will help protect the American people while also preserving ancient communities in the cradle of Christianity."
Christians are among the main civilian targets of ISIS, an al-Qaeda offshoot. More than 700,000 of Syria's Christian population of 1.1 million have been displaced by ISIS. In Iraq, more than 125,000 Christians have fled their homes in the Nineveh Plains and are living as internally displaced people in the autonomous Kurdistan region of Northern Iraq due to attack by the Sunni terror group, which has also destroyed many historical Christian sites in the region.
U.S. foreign assistance "needs to be targeted to religious minorities who have been forced to leave their homes and are now seeking safe haven elsewhere in the region," Rubio and Moore write.
Christians who are ordinary citizens are also supposed to help, they suggest, quoting Apostle Paul as saying in the New Testament that the church is a body made of many parts, and if one part of the body suffers, we all do. "So we ask you to join us in praying openly for all of those who are forced to pray in secret."
They conclude by urging prayers for America: "Pray that in this time of terrible affliction, our nation may be a force for justice, for peace, and for healing throughout the world."