Christians in Middle East at risk of 'imminent extinction,' warns Anglican head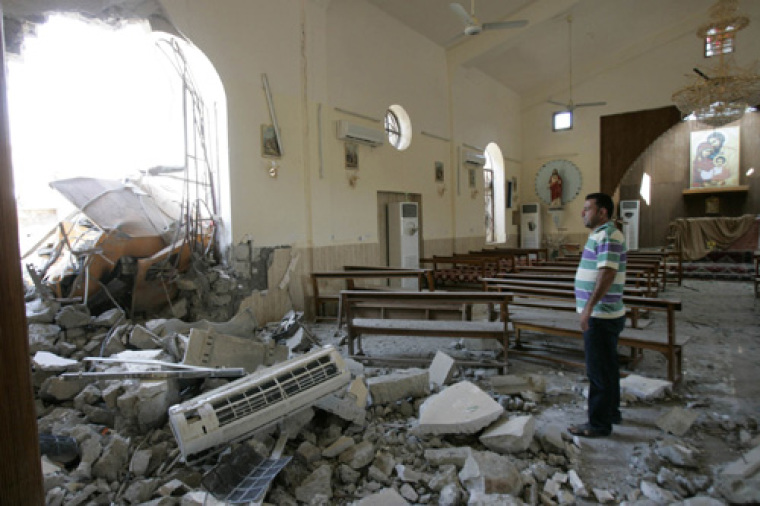 Christians in the Middle East are at risk of "imminent extinction" due to the continued "threat of violence, murder, intimidation, prejudice and poverty," the archbishop of Canterbury has warned.
In a recent op-ed for the Sunday Telegraph, Justin Welby described the "daily threat of murder" Christians are experiencing in the Middle East, calling it "the worst situation since the Mongol invasions of the 13th Century."
"In the last few years, they have been slaughtered by so-called Islamic State, and in many countries they find themselves squeezed between the upper and lower millstones of pressure on them within society and of conflicts that afflict the region.
"Many have left. Hundreds of thousands have been forced from their homes. Many have been killed, enslaved and persecuted or forcibly converted. Even those who remain ask the question, 'Why stay?' The Christian population of Iraq, for instance, is less than half what it was in 2003 and their churches, houses and businesses have been damaged or destroyed. The Syrian Christian population has halved since 2010. As a result, across the region Christian communities that were the foundation of the universal Church now face the threat of imminent extinction."
In countries like Israel, where Christians are secure in physical terms, tensions nevertheless "makes life difficult for them," he added.
Welby urged the international Christian community to "remember Christians in the Middle East and pray for them." He also advised against asking Syrian Christians to choose between President Bashar al-Assad, "under whom they were tolerated," and "the unimaginable horrors and threats of so-called Islamic State," adding: "We should not judge too easily."
"We must support and help them in every way we can," he underscored. "Where they wish to leave, they will be refugees in need of asylum. Where, courageously and by the grace of God, they choose to remain, they need publicity and external, visible support."
Welby's message was delivered ahead of a special service at Westminster Abbey to celebrate the contribution of Christians in the Middle East. In addition to the archbishop, Prince Charles will give remarks at the upcoming service, "which is being held to offer encouragement to Christians throughout the region."
Welby said the prince of Wales will play a "leading role" in the Dec. 4 event: "We will celebrate and pray for Christians in the region, we will raise their profile and we will publicize their plight," he said.
In his 2017 Christmas address, Charles urged prayers for those "forced to leave their homes in the face of the most brutal persecution on account of their faith" and called on believers in the West to pray and support those facing attacks in the Middle East.
"Indeed, as all of you know only too well, the Christmas story itself ends with the Holy Family fleeing for refuge from persecution; just as in 2017 large numbers of Christians, such as the families that I had the particular pleasure of meeting before this service, are being forced to leave their homes in the face of the most brutal persecution on account of their faith," Charles said in a service at St. Barnabas Church, Pimlico.
While God calls Christians to "love our enemies and to pray for those who persecute," Charles acknowledged it can be "incredibly hard to follow Christ's example" when "confronted with such hatred and oppression."
Referencing his and other Christians' belief that "Christ has come, and that He is present in the world today," Prince Charles urged Christians to pray and "commit to doing what each of us can to help ensure that those who are suffering have a brighter year ahead than the one that has passed.
"It is so vitally important, in this season of Advent and throughout the year, that Christians in this country and elsewhere, who enjoy the rights of freedom of worship and freedom of expression, do not take those rights for granted; and that we remember, and do what we can to support, our fellow Christians for whom the denial of such rights has had such profound and painful consequences."
According to estimates, under 200,000 Christians remain in Iraq when there were over 1.4 million Christians in Iraq in 2002 and 500,000 Christians in Iraq in 2013.
Last week, the U.S. Congress passed a bill that would "provide emergency relief to victims of genocide, crimes against humanity and war crimes in Iraq and Syria" and "provide accountability for perpetrators of these crimes."