Church Elder's Wife Fatally Shoots Him, Tries to Kill Herself After 40 Years of Marriage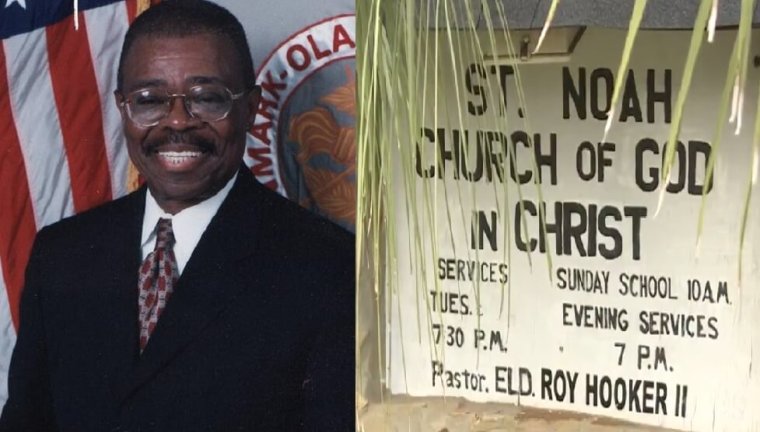 Forty years of marriage between a respected South Carolina church elder and his wife ended in tragedy Saturday morning after his wife, described as a good Christian by friends and family, allegedly shot him dead then tried to take her life as well.
Elder Frank McNair, 70, of St. Noah Church of God in Christ in Aiken who also worked as an educator for more than a decade at the Denmark Olar High School, was found dead at his home in Bamberg on Saturday. His estranged wife, Anne, who lived in a house next door, is currently recovering from a suspected self-inflicted gunshot wound, according to local news station WJBF.
Bamberg County Sheriff Ed Darnell told The Times and Democrat that the incident is an "apparent murder and attempted suicide."
County Coroner Billy Duncan said an autopsy showed McNair died of a single gunshot wound in the thoracic area.
Family and friends who knew the couple were left shocked and angry that something so tragic could happen to two people who were both well-liked by their community.
"I'm feeling upset about it, they was good peoples to me. In fact, I was in their wedding when they first got married," Jeffrey Bynes, Anne's cousin, told WRDW.
"For this tragedy for this to happen like it is … I don't really have an idea what's the cause of that," said Bynes to WJBF.
Bynes described Frank's wife as a gentle person who was "quiet, easy-going … very open" and "very churchy."
"She was a good person. That's why, you know, I'm just surprised to hear of this situation," said Bynes.
While he appeared surprised by the murder and attempted suicide, Bynes admitted that the couple had been having issues but he didn't know what exactly those issues were. He knows, however, they were bad enough for them to be living in separate houses next door to each other.
"Whatever their issues is, I don't know, but I know she was living separately," he said. "Sometimes she was living down in Georgia, and sometimes she was staying up here, you know, staying with her mother. ... It's been going on quite a while."
Gospel singer Yolanda Hammonds, who is Frank McNair's grieving daughter, told The Times and Democrat that her father was a principled "man of God."
"He was a great man. He was a man of stature and a man of God," said Hammonds who also has two brothers, Kevin and Kenneth McNair.
"He cared about our youth and he lived what he preached," she added.
Hammonds said her father was a pastor at Holy Temple Church of God in Christ in Bamberg prior to serving as an elder at St. Noah Church of God in Christ where congregants and colleagues alike are still in shock.
"I was devastated because he was always, to me a peaceful, gentle man," St. Noah Elder Bill Walden said in a WRDW report.
"Once we heard the makeup of it, it was even more tragic to us and we didn't know exactly how to handle what was happening," Walden added.
Walden said he worked closely with McNair for the past two years at St. Noah and said he would always jump in to help and sometimes played the organ on Sundays.
"We sometimes take for granted the people that are around us that inspire others to be there because we are there," Walden said.
The church's pastor, Roy Hooker, said McNair was missed on Sunday.
"Sunday it was hard for me. ... Just to think that he wasn't there and he wasn't going to be there anymore," Hooker said. "He had a tremendous purpose and he left before his time."
He said Anne McNair never attended the church but felt she was "a lovely person."
"She was a lovely person, kind of knew her from afar," Hooker said, "But with most church activities unless you spend time with people outside of church you know them in passing."
Thelma Sojourner, superintendent of the Bramberg School District 2, said Elder McNair worked in the school district for more than 10 years and ended his career as a vice principal at the Denmark Olar High School.
"He did work in this district more than 10 years ago and he did work in a career education program. He taught math in the district and that's been in excess of 10 years," she told The Christian Post in an interview on Tuesday.
"I remember him as being a very profound man. He was just very interested in making sure that the students were taught the skills that they needed to survive," she said. "He was very much no-nonsense but very caring with students. We do express our sincere condolences to his family in their loss."
She said the district has been in contact with McNair's family and they are trying to give them support as much as possible.
Mickey Pringle, principal at Denmark Olar High School, told CP that school officials are helping McNair's family plan his memorial service. The family is looking at having the service in the school's gymnasium on Sunday, he said, but they are also monitoring how hurricane Matthew could impact the area.
The South Carolina Law Enforcement Division which has taken over the case from the Bramberg County Sheriff's Office did not return a request for comment Tuesday. Anne McNair has not yet been charged.