Church Mounts Billboard Atop Gay Bar Telling LGBT Community 'God Takes Pride in You'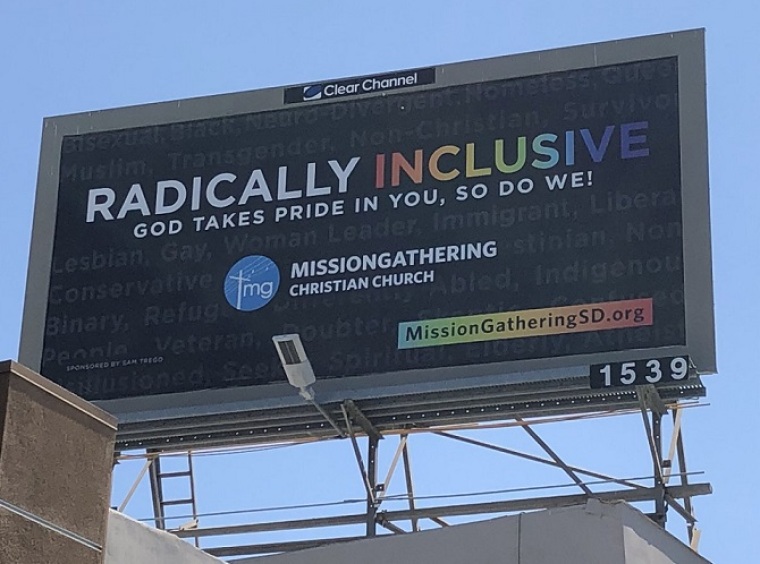 A Disciples of Christ Church in San Diego that describes itself as "radically inclusive" has purchased a billboard atop a gay bar with a message to the LGBT community, declaring, "God takes pride in you, so do we!"
The Mission Gathering Christian Church first promoted its billboard endorsing gay pride on Twitter last month as something that the Bible would also treat as that which is "right and good."
"If you're looking for a sign... This is it. Our message of PRIDE coming in July. Check us out then join us to 'do what is right and good...' Deuteronomy 6:18," the church tweeted.
"And thou shalt do that which is right and good in the sight of the Lord: that it may be well with thee, and that thou mayest go in and possess the good land which the Lord sware unto thy fathers," the full text of the Scripture in Deuteronomy says.
The church told Fox 5 that the billboard, which appears along the route of the San Diego LGBT+ Pride Parade, set for July 14, is meant to welcome those that "have traditionally been marginalized by the evangelical church."
"For far too long, Christians have been known for who we are against. We're afraid of difference. We only desire to make the world conform to our image of what is right and good," Brandan Robertson, a pastor at the church who describes himself as an LGBT Christian, told Fox 5.
"At Mission Gathering, we believe that in our diversity that we best reflect God's divinity — that when we amplify the beauty of our differences, all of us are challenged to expand our perspective and become more loving, more mindful, and more kind," he said.
Some members of his church are also expected to join the LGBT Parade on July 14.
In 2013, the Disciples of Christ, also known as the Christian Church, became one of a number of mainstream Protestant Christian denominations to affirm openly homosexual individuals as welcome members and leaders in the life of the denomination.
Last year, a national coalition of more than 150 evangelical leaders signed a new statement affirming their beliefs on human sexuality, including that marriage is between one man and one woman and approval of "homosexual immorality" is sinful.
In the Nashville Statement, The Council on Biblical Manhood and Womanhood denounced the increasingly post-Christian Western culture that is denying God's purpose for humans, as male and female, and said that it presents "a great challenge to the Christian church" — which can either "blend" in with the "spirit of the age" or hold fast to God's Word.
"Our true identity, as male and female persons, is given by God. It is not only foolish, but hopeless, to try to make ourselves what God did not create us to be," the statement reads.
"WE AFFIRM that it is sinful to approve of homosexual immorality or transgenderism and that such approval constitutes an essential departure from Christian faithfulness and witness. WE DENY that the approval of homosexual immorality or transgenderism is a matter of moral indifference about which otherwise faithful Christians should agree to disagree."
John Piper, co-founder of The Council on Biblical Manhood and Womanhood, called the statement in a news release, a "Christian manifesto" on human sexuality.
"It speaks with forthright clarity, biblical conviction, gospel compassion, cultural relevance, and practical helpfulness," Piper said. "It will prove to be, I believe, enormously helpful for thousands of pastors and leaders hoping to give wise, biblical, and gracious guidance to their people."