'Church People' actor, NSYNC singer Joey Fatone performs 'Bye Bye Bye' at Miami 'drag brunch'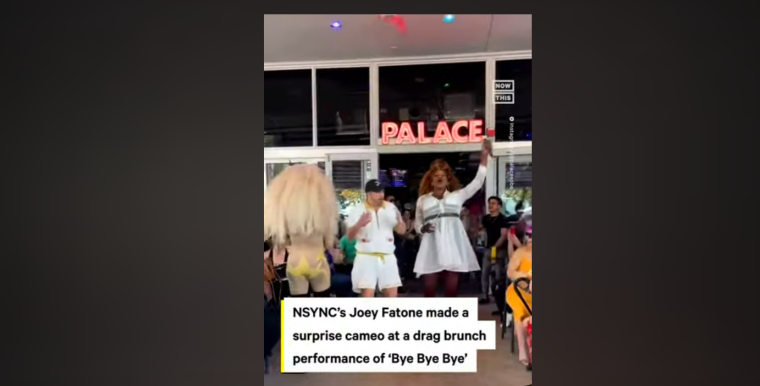 Actor and former member of NSYNC Joey Fatone performed the boy band's 2000 hit song, "Bye Bye Bye" at a "drag brunch" in South Beach this week.
Video of the impromptu performance shared by Miami LGBT bar The Palace showed Fatone dancing alongside drag performer Tiffany Fantasia.
Along with the video, the self-titled "World Famous Drag Bar" wrote: WHAT A WEEKEND ITS BEEN ALREADY!! We had the honor of being visited by @nsyncs own @realjoeyfatone who joined us and sang one of their biggest hits with our queens for our visitors #OnlyAtPalace You never know who's going to attend our shows!"
In addition to singing, Fatone is seen in the video performing much of the original choreography from the "Bye Bye Bye" video, which memorably featured the band members as marionettes before their strings are cut loose.
Fatone told followers on social media he was in town for a friend's bachelor party.
Following his chart-topping time as a member of NSYNC, Fatone went on to enjoy some success as an actor, landing roles in such films as "My Big Fat Greek Wedding." He most recently appeared in the Pure Flix film "Church People," a faith-based comedy starring Stephen Baldwin and Christian comedian Thor Ramsey.
In 2007, Fatone came in second place on the ABC reality show "Dancing with the Stars."
Fatone's South Beach appearance was not the singer's first public show of support for the LGBT community.
In June 2021, he joined former bandmate Lance Bass and fellow boy band members Nick Carter and A.J. McLean from Backstreet Boys to host a charity event in Los Angeles in honor of what LGBT advocacy groups call pride month, also known as June. 
"It's one of those things where all pride is really near and dear to our hearts," Fatone told ET. "We all live in the entertainment community where there is a lot of [LGBT people] and we embrace that."
Fatone's appearance comes as more conservative states like Florida and Texas have launched investigations into drag bars where minors — including small children — are allowed to attend.
Last month, Florida regulators threatened to revoke licenses of venues hosting a Christmas-themed drag show alleged to involve simulated sexual activity and the "sexualization of children's stories" if they allowed minors to attend the events. 
The Florida Department of Business and Professional Regulation (DBPR) sent letters to venue operators at the James L. Knight Center in Miami and the Plaza Live in Orlando, warning that officials will take "any and all actions available" if minors are allowed to attend "A Drag Queen Christmas" events.
"Drag Queen Christmas," which wrapped a national tour in 36 cities across more than a dozen states in December, was hosted by performers Nina West (featured on TV's "RuPaul's Drag Race") and "Trinity The Tuck," whose stage moniker refers to the practice used by men to conceal their genitals.
Earlier this summer, the state of Texas opened an investigation into a Dallas bar that held a drag show for children earlier this summer.
In a statement released in August, Texas Comptroller Glenn Hegar identified himself as one of many Texas parents who found themselves "disturbed by the recent images showing children participating in a drag show in the Dallas area, including one of a child placing money in a performer's undergarment."
The drag show in question, which was dubbed as a "family-friendly pride experience" called "Drag the Kids to Pride," took place at Mr. Misster bar in Dallas on June 4. 
"I know this is a concerning issue for many Texans, and the images circulating are certainly inconsistent with our Texas values," he added. "Though my office does not typically comment on ongoing investigations, the recent public discussion surrounding this specific entity demands a response."
Hegar assured concerned Texans that his office "had already begun the process of investigating this specific event, as well as working to determine if the establishment is liable for the Sexually Oriented Business Fee (SOBF) under Chapter 102 of the Business Code." 
Hegar's announcement came one day after Republican state Rep. Bryan Slaton called on Hegar to treat Mr. Misster as a "sexually-oriented business." As Slaton explained, "Sexually-oriented businesses are required to pay $5 per attendee present and they must also prevent children and sex offenders from attending or participating."