Churches Defend Asylum Seekers as Trump Sends 5,200 Troops Against Immigrant Caravan 'Invasion'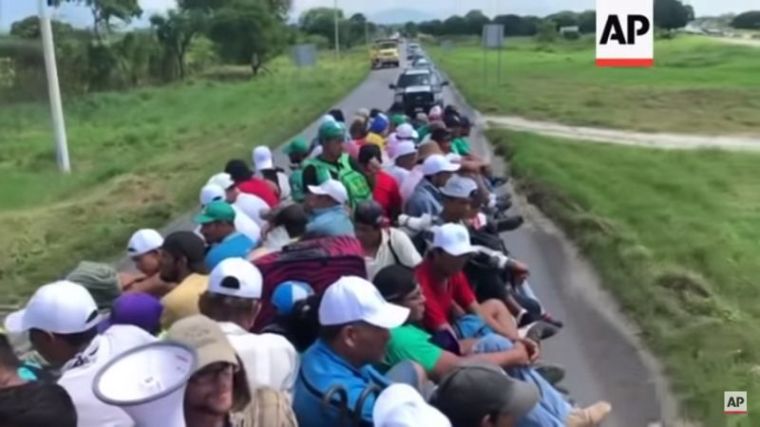 Churches in America have defended asylum seekers and opposed military action at the U.S.-Mexico border, as President Donald Trump sent in 5,200 extra troops against the migrant caravan.
Various Roman Catholic charity groups, including Catholic Relief Services and Catholic Charities USA, spoke out in an official statement issued by the U.S. Conference of Catholic Bishops calling for humane action toward the asylum seekers, many of whom are coming from Honduras.
"While nations have the right to protect their borders, this right comes with responsibilities: governments must enforce laws proportionately, treat all people humanely, and provide due process," the charities declared.
"We affirm that seeking asylum is not a crime. We urge all governments to abide by international law and existing domestic laws that protect those seeking safe haven and ensure that all those who are returned to their home country are protected and repatriated safely," they added.
"Furthermore, we strongly advocate for continued U.S. investments to address the underlying causes of violence and lack of opportunity in Central America. Our presence throughout the Americas has convinced us that migration is a regional issue that requires a comprehensive, regional solution. An enforcement-only approach does not address nor solve the larger root causes that cause people to flee their countries in search of protection."
As Trump told Fox News on Monday, the 5,200 extra support troops deployed to America's southern border will seek to contain the wave of migrants seeking asylum, and make sure that due process is followed and no one gets into the country illegally.
"When they are captured, we don't let them out," Trump told Fox host Laura Ingraham. "We're not letting them out ... We're not catching, we're not releasing ... We're not letting them into this country."
"We're going to put tents up all over the place," the president described the actions that are to be taken. "We're not going to build structures and spend ... hundreds of millions of dollars. We're going to have tents, they're going to be very nice and they're going to wait and if they don't get asylum, they get out."
One migrant wave approaching the U.S., fleeing violence and economic crisis in Central America, reportedly includes about 4,000 people. Hundreds more are said to be migrating in a second wave as well.
As he has in the past, Trump claimed that there are dangerous criminals hiding among the migrant masses.
"Many gang members and some very bad people are mixed into the caravan heading to our southern border," the president said.
"Please go back, you will not be admitted into the United States unless you go through the legal process. This is an invasion of our country and our military is waiting for you!" he warned.
The board of directors of the General Board of Church and Society of The United Methodist Church released a statement the day of the announcement of extra troops, which was adopted following its meeting last week.
"A delegation of four of our members traveled to the U.S.-Mexico border to better understand the root causes of migration, the right to asylum and the criminalization of migrants," the UMC statement said.
"All of the faith, nonprofit, and government leaders our delegation met shared great concern and fear about U.S. troops being deployed in response to the group of migrants traveling through Mexico to the U.S.-Mexico border," it added.
"We were, therefore, alarmed to learn that the administration will most likely send U.S. troops to the U.S-Mexico border."
The church continued by stating that it denounces and opposes "the rise of xenophobic, racist, and violent reactions against migrants in the United States, and support all efforts to build relationships among people, instead of building walls among diverse ethnicities and cultures."
Evangelical relief group World Relief echoed the sentiments, and retweeted a previous post from August, writing:
"U.S. law gives the right to any person seeking asylum in the U.S. to access a designated port of entry. We're committed to protecting the rights of immigrants lawfully seeking refuge in the U.S., partnering w/ organizations to offer legal services to families seeking asylum."
Conservatives, including former Arkansas Gov. Mike Huckabee, have also argued that the migrant waves are an attempted "invasion," however.
"America is great because immigrants helped make it great but what's brewing at the border is NOT immigration — it's an invasion! @realDonaldTrump cannot allow people to overrun the borders," Huckabee tweeted last week.