Ohio Couple Credit Prayers, 'Miracle Healing' After Baby Daughter's Tumor Vanishes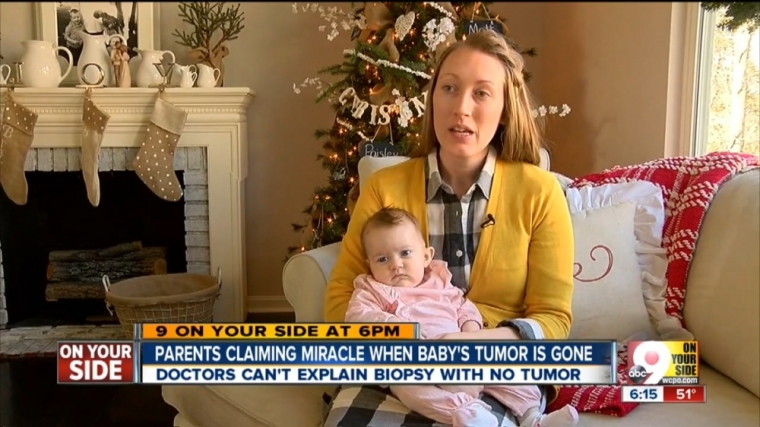 A Cincinnati couple is crediting "divine intervention" and prayers from family and friends after a suspected tumor on their infant daughter's brain suddenly disappeared.
"As soon as he came in, he sat down, he was just shaking his head," the mother, Carissa Hatfield, said of the doctor's words.
"He said, 'Your prayers must have worked, because when I went in to get that biopsy,' he said, 'nothing was there.'"
Up until two days ago, Carissa and Matt Hatfield believed their daughter, Paisley, was going to die, 9 WCPO reported on Wednesday.
The parents had noticed a droop on the left side of her face ever since she was born, and eventually decided to get a scan at Cincinnati Children's Hospital in Liberty Township.
They were told that doctors discovered a mass near the base of their daughter's brain, and Paisley was scheduled for a biopsy on Monday. But after calling on friends and family for prayer, the parents were suddenly told that the mass was gone — something which doctors have trouble explaining.
The hospital said in a statement: "Doctors at Children's had expected the worst — a malignant tumor. But when surgeons reached the spot where the suspected tumor was visible on the scan, they found nothing. They couldn't have been happier to tell the good news to the Hatfield family."
Matt Hatfield, who described himself as a "man of God," said that he believes his family has been blessed by a "true miracle," and a "true healing."
There have been a number of reported healing miracles involving young children this year, with a few of them credited to Pope Francis, the Roman Catholic Church leader.
Back in October, a A 12-year-old girl from Brooklyn, New York, said that she is now on the road to recovery from Lyme disease following a meeting and blessing from the pontiff, who visited the city in September.
Julia Bruzzese told reporters that she believes in miracles, and revealed that following her meeting with the pope, doctors were suddenly able to properly diagnose her disease, which they couldn't before, and give her proper treatment.
In a separate story in September, an American couple from Arizona said that they believe Francis healed their 3-month-old daughter's heart condition, after the Vatican leader held and blessed her during Easter in 2014.
"It seems like it was really meant to happen," the daughter's mother, Lynn Cassidy, said in September. "And it's as close to a miracle as we'll ever see, I'm sure."