Clinton VP Pick Tim Kaine 'Hides Behind Catholicism' but Supports Abortion, Pro-Life Group Says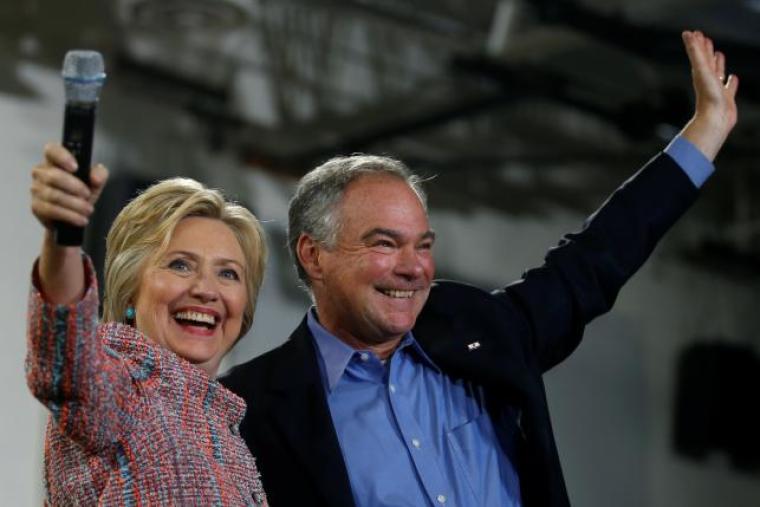 Virginia Sen. Tim Kaine, the vice-presidential pick of Democratic candidate Hillary Clinton, has been accused of supporting abortion rights by pro-life groups despite his expressed Roman Catholic faith and church attendance.
National Right to Life president Carol Tobias said that Kaine has voted against the pro-life position throughout his political career, including his recent co-sponsorship of the "Women's Health Protection Act" (S.217), which takes down state limitations on abortions.
"Like Hillary Clinton, Sen. Tim Kaine supports the current policy of abortion on demand," Tobias said.
"Like Hillary Clinton, Sen. Kaine is so extreme on abortion he opposes even the Pain-Capable Unborn Child Protection Act, legislation to protect unborn children from abortion after 20 weeks, when they are capable of feeling excruciating pain during dismemberment or other late abortion methods."
Tobias further accused Kaine of "hiding behind his Catholic background," but warned voters to not be "fooled."
"His record, and his openly declared legislative goals, are as pro-abortion as they come," she said.
Kaine has said in the past that he personally opposes abortion, but does not believe the government should interfere with abortion choices.
"I have a traditional Catholic personal position, but I am very strongly supportive that women should make these decisions and government shouldn't intrude," the Virginia senator has said.
"I'm a strong supporter of Roe v. Wade and women being able to make these decisions. In government, we have enough things to worry about. We don't need to make people's reproductive decisions for them."
Vox analyzed that Kaine has an "evolving view" on abortion, with a mixed record on the issue, but ever since he entered the Senate in 2012, he has had a "perfect pro-choice voting record."
Kaine has additionally voted against efforts to defund Planned Parenthood, and has defended the abortion provider as a "primary health provider."
Groups such as NARAL Pro-Choice America have praised Kaine's voting record despite his beliefs, with president Ilyse Hogue arguing that there are a number of pro-choice Americans who personally oppose abortion but still believe it should be legal.
"This is core part of what it means to be pro-choice — supporting everyone's individual decision making," Hogue said.
ABC News meanwhile reported that Kaine attended his Richmond church on Sunday, which he has been a part of for more than 30 years, and talked about the importance of having a strong faith community.
"You saw what a special community that is," Kaine said following mass with his wife, Virginia Secretary of Education Anne Holton, at St. Elizabeth Catholic Church.
"Anne found it in the summer of 1984 and we were married here in November of 1984. And this and our neighborhood are really the center of our lives here. We needed some prayers today and we got some prayers and we got support and it really feels good."
Kaine revealed that he baptized all three of his children at the church, while Holton said that she and her husband found the parish decades ago "almost by accident."
"But the fact that this parish has meant so much to us the last 33 years is no accident," she added.
Kaine is expected to speak on Wednesday at the Democratic National Convention, which kicks off this week in Philadelphia.