Close to 100 Dead in Syrian Airstrikes on ISIS-Held Raqqa; City Resembling 'Zombie Film' Says Activist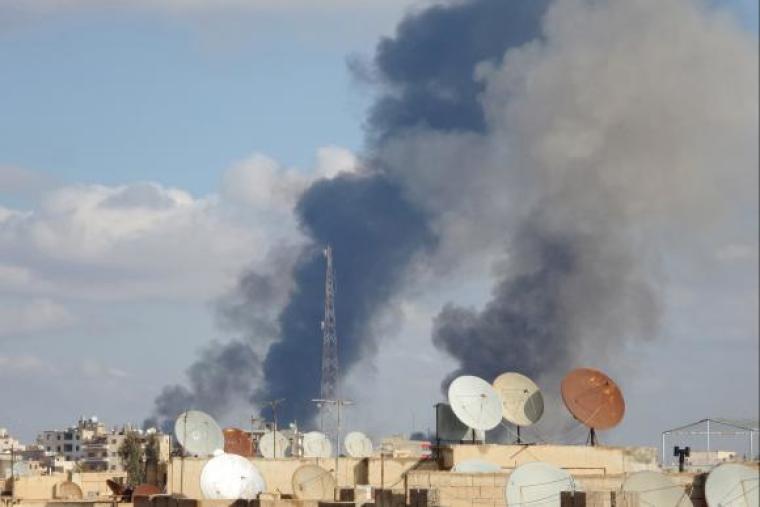 The death toll from a major Syrian airstrike on the ISIS stronghold of Raqqa on Tuesday continues to rise and has almost reached 100 casualties. The dozens of wounded are meanwhile overflowing the last functioning hospital in the war-torn city, an activist has said.
"There are a lot of dead bodies and injured. There are just a few doctors, and because of that there are a lot of people dying from their wounds," an activist from inside Raqqa told BBC News.
"All the markets in the city closed after the air strikes. There is nobody walking in the streets — it's just like a zombie [film]," he added. "They are just afraid because they say in the morning there are regime air strikes and in the evening there are [US-led] alliance air strikes and it's very, very hard to live under IS."
The activist noted that only one hospital in the city is still functioning properly.
"Just one hospital can work as normal but the other hospitals can't. I really don't know how they can deal with this," he said.
There have been several updates on the death count throughout Wednesday. The Syrian Observatory for Human Rights, which has been monitoring the crisis in the country, initially reported that there were 63 people slain by the warplanes, which carried out 10 raids on the city, but that number has since been updated.
The government of President Bashar Al-Assad has not joined forces with the U.S.-led coalition that is also carrying out airstrikes across ISIS targets in Iraq and Syria, but has been carrying out its own offensive operations against the jihadist group.
A report last week by Fides News Agency found that there are still 23 Christian families who have been unable to flee Raqqa, and are facing violence by the Islamic occupiers. The families have been told to pay a "protection tax" or be forced out of their homes, a likely reality for many who have been impoverished by the war.
ISIS, which has captured a number of cities across the region, took control of Raqqa in January and made it its 'capital' in June. The terror group, which is also known as the Islamic State, has been governing the captured city by a strict interpretation of Islamic law.
Most of the casualties in Tuesday's attack were reportedly caused by two strikes in quick succession near a train station. People who rushed in to help the wounded from the first strike were caught up in the second, the Syrian Observatory said.
U.N. humanitarian chief Valerie Amos revealed that close to 12.2 million Syrians need assistance because of increasing violence and deteriorating conditions, which is up from 10.8 million in July.
Amos added that at least 212,000 people in total are living under siege, and desperately need help.