Coach Kennedy Barred From Football Team for Praying After Games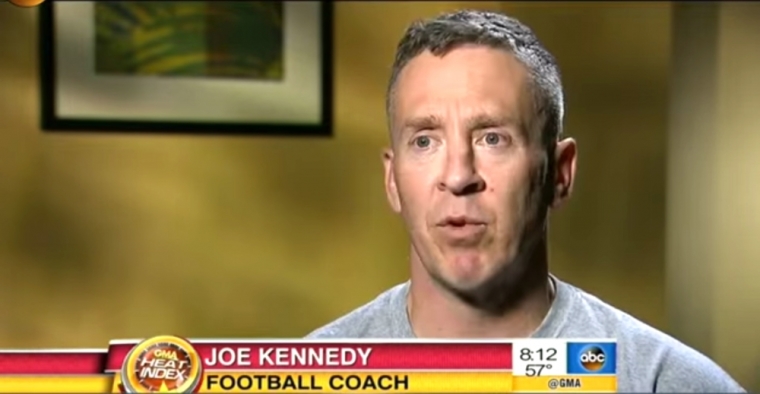 The Washington high school football coach who has become the center of a national discussion on the religious freedoms of public school employees has been placed on leave by the Bremerton School District after he defied district orders and continued to pray on the 50-yard line following football games.
According to Fox News, Bremerton High School assistant coach Joe Kennedy was placed on administrative paid leave Wednesday by Superintendent Aaron Leavell and was told he is no longer allowed to participate in any football-related activities with the Knights.
Kennedy has been under investigation by the school district since September when a complaint was issued about his post-game prayers.
"Effective immediately, pending further district review of your conduct, you are placed on paid administrative leave from your position as an assistant coach with the Bremerton High School football program," Leavell wrote in a letter to the coach. "You may not participate, in any capacity, in BHS football program activities."
Although Kennedy's prayers consisted of him kneeling on the 50-yard line to pray with a group of willing students gathered around him, the school district felt as though such prayer violated the Establishment Clause of the United States Constitution.
"While the district appreciates Kennedy's many positive contributions to the BHS football program, and therefore regrets the necessity of this action, Kennedy's conduct poses a genuine risk that the district will be liable for violating the federal and state constitutional rights of students or others," a press release from the school district states.
On Sept. 17, Kennedy was told that he can no longer kneel, bow his head or do anything that can be perceived by students to be religious. Leavell instructed Kennedy that he could engage in "private prayer" after football games only if he waited until all students had left the stadium, which usually doesn't happen until hours after games.
Despite the order, Kennedy stayed true to his faith and continued with his post-game prayer tradition on the 50-yard line.
"You violated those directives by engaging in overt, public and demonstrative religious conduct while still on duty as an assistant coach," Leavell wrote.
Although the school district was worried that Kennedy's prayer could bring about a lawsuit from a secular group, the Liberty Institute announced this week that Kennedy plans to file his own lawsuit against the school district for not making an accommodation for his faith and for also violating his First Amendment rights.
"We tried to meet with the school officials in-person but they refused to meet," Liberty Institute attorney Hiram Sasser told Fox News. "We were only able to have a brief hour and a half call with their lawyer, and the result was a letter banning private prayer just a few hours before last Friday's game."
The school district's actions against Kennedy come a day after 47 members of Congress sent a joint letter to the school district explaining that school officials have the right to exercise their religious freedoms just as much as any other citizen.
The letter explained that the Establishment Clause does not mean that school officials need to "proactively scrub all references of religion from the public square." The letter urged the district to allow Kennedy to exercise his constitutionally guaranteed freedoms, which he served 20 years as a Marine to protect.
"Rather, the Establishment Clause ensures both that the government does not show preference to a certain religion, and that government does not take away an individual's ability to exercise religion," the letter argues. "We would urge you to also consider the fact that Kennedy's personal actions are not only noncoercive, but also admirable and respectable as they represent his commitment to the welfare of the young men on his team."
The Bremerton Knights will hold their first game without Kennedy on Thursday. As a way of protesting against Kennedy, robed members of the Satanic Temple of Seattle plan on attending the game. The temple's head, Lilith Starr, told the Kitsap Sun that a student from Bremerton contacted the temple and asked if members could give a satanic invocation after Thursday's game.
"They felt it wasn't right that only the Christian voice was being represented," Starr said.