Colin Kaepernick Lands $1M Book Deal as Poll Shows Growing Support for National Anthem Protests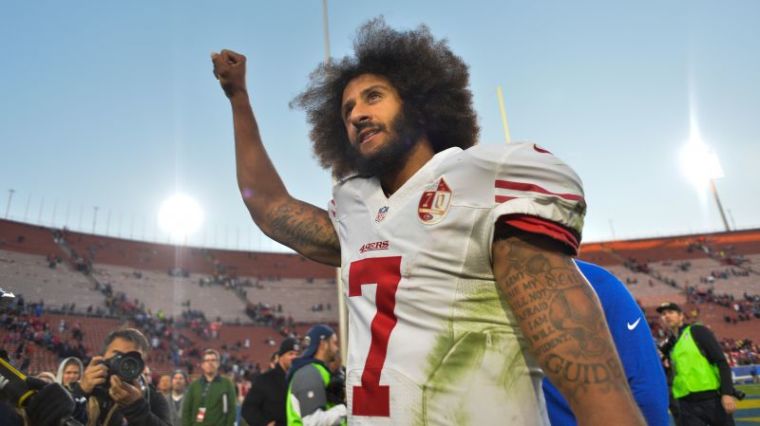 Former San Francisco 49ers quarterback Colin Kaepernick has landed a book deal worth just over $1 million, as a new poll released Tuesday showed a majority of Americans now say athletes shouldn't be required to stand during the national anthem.
A Page Six report in the New York Post revealed on Tuesday that Kaepernick landed the book deal with Random House imprint One World.
Kaepernick became a lightning rod for racial animus when he began sitting and then  kneeling during the performance of the national anthem last season to protest social injustice and police brutality. He revealed last fall that he got death threats for his activism.
Adding to the controversy surrounding Kaepernick was his wearing of socks depicting cops as pigs at training camp practices and a $25,000 donation he made to "Assata's Daughters," a group named after FBI fugitive and convicted cop-killer Assata Shakur. His donation was made "as part of his goal to provide $100,000 to underprivileged communities. He designated $2,500 specifically for 'Cop Watch,' a program that trains volunteers to follow and videotape police officers," Town Hall reported.
When Kaepernick opted out of his contract with the San Francisco 49ers to become a free agent in March then failed to get signed to a new team, the conversation over the protests during the national anthem had largely gone quiet until President Donald Trump ignited the debate again last month.
Trump urged team owners to fire players who kneel in protest during the national anthem.
"Wouldn't you love to see one of these NFL owners, when somebody disrespects our flag, to say 'Get that son of a b---- off the field right now, out, he's fired. He's fired!'" Trump said during a campaign event for Sen. Luther Strange, according to AL.com.
Despite the controversy over the protests during the national anthem, results of an HBO Real Sports/Marist Poll said a slim majority of Americans, 51 percent, now feel professional sports leagues, such as the NFL, should not require athletes to stand during the national anthem, while 47 percent say they should.
Around the same time in 2016 when Kaepernick revealed he was getting death threats, a majority of Americans felt professional athletes should stand, 52 percent, while only 43 percent felt they should not be required to do so.
Even though 49 percent of Americans feel protesting during the national anthem is disrespectful, a majority, 57 percent, describe the national anthem as more of a symbol of Americans' rights and freedoms.
"A majority of Americans, 52 percent, value the right of professional athletes to protest racial inequality by kneeling or locking arms during the performance of the national anthem before a game," a release on the poll said.
More than two in three Americans, 68 percent, also say President Trump did the wrong thing when he called for the firing of NFL players who took a knee during the anthem.
Some 28 percent, however, say his response was correct. When it came to Vice President Mike Pence's decision to walk out of an NFL game where some players kneeled in protest, Americans are equally divided on the question of whether what he did was right or wrong.
Kaepernick recently filed a controversial collusion grievance against NFL team owners as he has failed to sign a new contract in the league.