Conservatives Send More Than 1,000 Bibles to Houston Mayor Annise Parker's Office After Sermons Are Subpoenaed
Conservatives Send More Than 1,000 Bibles to Houston Mayor Annise Parker's Office After Sermons Are Subpoenaed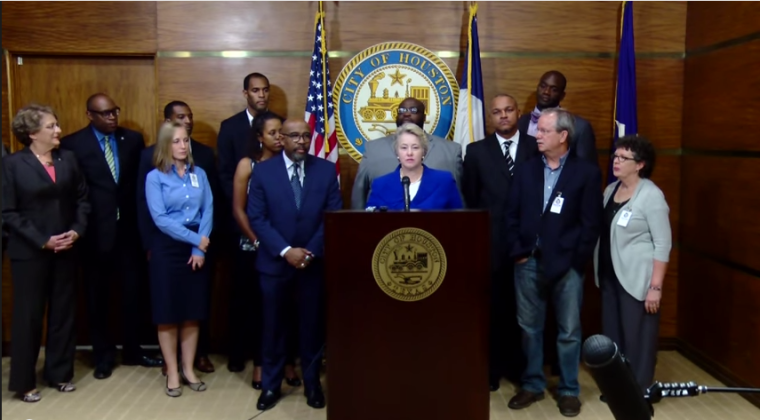 The mayor's office of the city of Houston in Texas confirmed Thursday that conservatives sent in more than 1,000 Bibles to the city's first openly gay mayor, Annise Parker, in protest after the sermons of five local pastors were subpoenaed in a legal dispute over a controversial ordinance some say will allow men to use women's restrooms in the city.
Earlier reports noted that city officials in Houston were upset over a voter lawsuit filed after the Houston City Council rejected valid petitions to repeal the city's controversial Equal Rights Ordinance, which allows men who identify as female to use women's restrooms, and women who identify as male to use men's restrooms.
When Parker announced Wednesday that she has asked her legal department to withdraw the subpoenas, hundreds of Bibles had already been sent to her office.
Conservatives and pastors were encouraged by former GOP presidential candidate Mike Huckabee to send her Bibles and copies of their sermons in protest of what the city's lawyers did to the pastors who are not party to the voter lawsuit.
"We have about 1,000 (Bibles) maybe a little more than 1,000," explained Darian Ward, press secretary for the mayor's office, told The Christian Post Thursday. She said she was not sure how many, if any, were sent in on Thursday or the day before, but explained that they plan on donating the Bibles to people who need them.
When asked how the mayor's office felt about the Bibles, she said: "Well, it's a good thing because we have them to donate to organizations that need them."
At a press conference Wednesday where she was flanked by several local pastors, Parker announced that the city's legal department had withdrawn the subpoenas against the pastors who are spearheading a campaign to repeal the controversial Houston Equal Rights Ordinance, also known by the acronym, HERO.
"This is an issue that has weighed heavily on my mind for the last two weeks," said Parker. "Protecting the HERO from being repealed is important to Houston, but I also understand the concerns of the religious community regarding the subpoenas. After two meetings yesterday, I decided that withdrawing the subpoenas is the right thing to do. It addresses the concerns of ministers across the country who viewed the move as overreaching. It is also the right move for our city."
Reacting to the withdrawal of the subpoenas Wednesday, Huckabee noted in a post on his Facebook page that: "The Houston mayor took her finger off the trigger of the gun pointed at pastors' heads, but she needs to unload the gun completely and allow the people of Houston to vote. And an apology to the pastors and their churches would be nice, along with a promise to read the Constitution and maybe she will realize that government doesn't get to approve how much religious liberty people have in America."