Conservatives Should Stop Arguing About Size of Welfare State, Focus on Role of Gov't, Conservative Reformists Say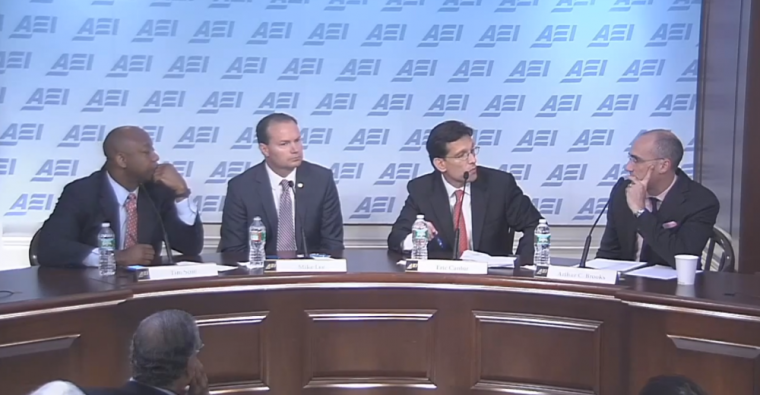 Rather talk about the size of government, conservatives should be talking about the proper role of government, a group of conservatives argued Wednesday as they presented an agenda aimed at helping the middle class and working poor.
"How big the welfare state should be is the wrong argument," Yuval Levin, Hertog Fellow at the Ethics and Public Policy Center, claimed. Rather, he said, conservatives should be talking about the proper role of government. Government should provide a "supportive role" to "strengthen the space in which social institutions thrive."
"Government exists to enable society to better address its problems," Levin said.
The event was held at the American Enterprise Institute and co-hosted by YG Network, which was introducing a new book on the topic, Room to Grow: Conservative Reforms for a Limited Government and a Thriving Middle Class.
The edited volume has 13 chapters, all by separate authors. Levin wrote one of the introductory chapters. He was joined on the panel by three other chapter authors, AEI's Ramesh Ponnuru, YG Network's Reihan Salam and EPPC's Peter Wehner. The event began with a panel hosted by AEI President Arthur Brooks featuring three Republican members of Congress, Rep. Eric Cantor (Va.), Sen. Mike Lee (Utah) and Sen. Tim Scott (S.C.). Senate Minority Leader Mitch McConnell (R-Ky.) also delivered remarks to the group.
Wehner noted that conservatives have some challenges ahead if they are going to convince the middle class that conservative policies are in their interest. Practically everybody, 85 percent of Americans, considers themselves middle class, and more of them favor the policies of Democrats than Republicans. Sixty-two percent believe Republicans favor the rich.
Government should exist, not to administer society, but to "empower people to meet the challenges they face," Levin continued. He contrasted that with a liberal vision, which he characterized as "government exists to manage society — to run the key institutions, to organize the distribution of resources, to tell people what their place and function ought to be." The conservative vision, he summarized, is "bottom up" whereas the liberal vision is "top down."
"Conservatives say that society can't be run from the center," he said, "that no one has the knowledge to solve big social problems in a technical or technocratic way. Instead, those problems have to be addressed bottom up, through a kind of learning process that follows a series of steps that we can think of as the 'three E's': experimentation, evaluation and evolution."
Through such a process, Levin believes, society can make "ongoing, incremental progress" toward addressing societal problems. It is the job of government to help facilitate that process. Levin does not believe this process will ever solve all problems or lead to a "great society." Rather, he sees it as an ongoing, never ending, process of experimentation and learning.
The members of Congress spoke about some specific policy proposals that fit with the book author's agenda. Cantor, for instance, spoke about how licensing requirements, such as those for cosmologists or food trucks, create barriers to success for those without a college education. There is current legislation in the House to address that problem.
Lee spoke about his proposal for an expanded child tax credit. In the interest of tax fairness, he argued, those who raise the next generation of tax payers that are needed to pay for Medicare and Social Security should not be penalized.
Scott argued for school choice programs as a way to help children trapped in poverty.
"Education is the gateway to the American dream," he said.
Looking at a school choice program in Washington, D.C., Scott noted that the program's participants have a 93 percent graduation rate, compared to only 50 percent for those who were not lucky enough to win the lottery for one of the scholarships.
You can watch the whole thing below: