Crucifix and Virgin Mary Statue Survive 4-Alarm Fire at Historic Century-Old California Church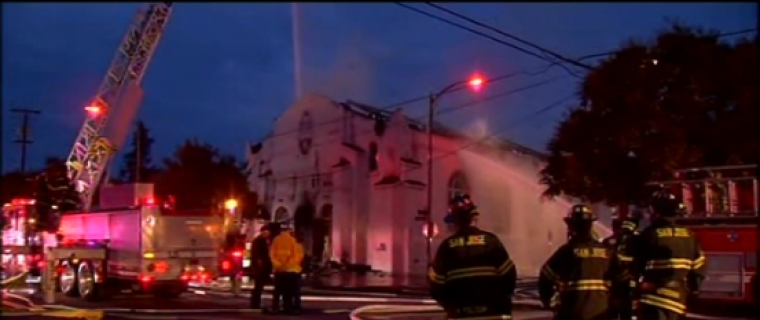 An ornate wooden crucifix made in Italy and a statue of the Virgin Mary miraculously survived a four-alarm fire that destroyed much of the historic Holy Cross Catholic Church in San Jose, California, that over 100 firefighters battled on Sunday.
On Monday, as firefighters kept onlookers and pedestrians a safe distance away from the church they believed might cave in, they were able to hoist the crucifix out of the smoldering 108-year-old church as members of the parish watched in amazement.
Members of church were stunned to see that the beloved crucifix remained intact despite the rest of the building being burned to the ground, according to Rev. Firmo Mantovani who serves at the church.
"I can't believe what I'm seeing," said Sam Arlotta, who's been a parishioner of Holy Cross for 86 years.
Cecilia Calderon, another parishioner, said it was God showing His love for the church, and exclaimed: "Milagro," which is the Spanish word for miracle. "God loves us very much."
Some members of the church said they didn't believe the 10-foot-tall wooden crucifix would survive the blaze. Others see its survival — intact and unaffected by the infurno — as a sign that the church should be rebuilt.
"That's important as a sign that the church should be rebuilt," Mantovani said, according to San Jose Mercury News. "But a miracle? That is a question of semantics. It is a miracle, but it was also a real possibility."
The San Jose fire chief also weighed in on the crucifix's condition.
"I wish I could tell you," he said. "It was open to all of the elements — the fire and smoke and the collapsing roof, and yet it's there in almost perfect shape."
The fire deptartment received the call about the fire at the historic church around 2:20 p.m. Sunday, which was just as mass had ended.
Officials said the flames spread really quickly making the 108-year-old building impossible to save. However, they were able to contain the fire by 5 p.m. They also remained overnight to make sure none of the embers erupted into flames again.
Parishioners who had grown up there mourned the loss.
"I made my first holy communion here," one woman told ABC7 News. "My kids made their first holy communion here, they were baptized here. It's sad."
Mantovani seems optimistic, however, and is trusting God for the church's future.
"We are still looking at what happened and hopefully nobody is going to get hurt and we can go forward with the help from the Lord and also from the backing of our community," he said.
The Holy Cross building was found in 1906. It traditionally served Italian immigrants who resided on the north side of its neighborhood.