Crystal Cathedral Founder Received 'Love Gift' to Fix Broken Heater, Dishwasher
A recent church newsletter revealed that the Rev. Robert H. Schuller, ex-leader and founder of the Crystal Cathedral Ministries and the world's longest running evangelistic television program in the world, "Hour of Power," depended on a "love gift" from a small church to fix his broken heater and dishwasher in January.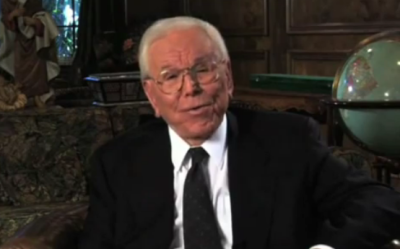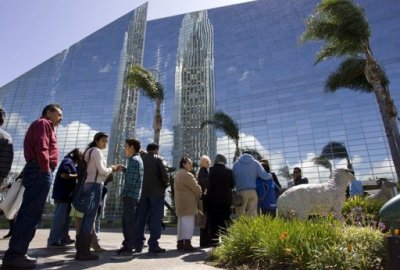 The revelation was made in the newsletter of the church Hope Center of Christ, founded last year by Schuller's daughter Sheila Schuller Coleman.
"Dr. and Mrs. Robert H. Schuller send a special 'Thank You!' to all at Hope Center of Christ, who so graciously sent them a love gift. It provided just what they needed to fix their broken heater, just in time for this latest cold storm, and have their dish washer fixed as well. It was a true blessing and they can't thank you enough," reads the newsletter in part.
This is a far cry from the lavish lifestyle Schuller and his family lived before the iconic Crystal Cathedral Ministries was forced to file bankruptcy in late 2010 due to mounting debt.
During the Crystal Cathedral bankruptcy hearings, allegations and details emerged of the Schuller family's extravagant lifestyle, including the Rev. Schuller and his relatives and friends allegedly borrowing as much as $10 million from endowment funds between 2002 and 2009, housing allowance amounting to $132,019 for one employee, and the personal use of limos, among other issues.
In his book, Your Church Has Real Possibilities, Robert H. Schuller had shared about the Crystal Cathedral on page 117:
"We are trying to make a big, beautiful impression upon the affluent non-religious American who is riding by on this busy freeway. It's obvious that we are not trying to impress the Christians…Nor are we trying to impress the social workers in the County Welfare Department. They would tell us that we ought to be content to remain in the Orange Drive-in Theater and give the money to feed the poor. But suppose we had given this money to feed the poor? What would we have today? We would still have hungry, poor people and God would not have this tremendous base of operations which He is using to inspire people to become more successful, more affluent, more generous, more genuinely unselfish in their giving of themselves."
On Jan. 20 at Hope Center for Christ, the embattled icon of American televangelism looked frail and humble in a video posted on YouTube that shows him appearing at a pulpit for the first time in 2 years. He is introduced by his daughter at around the 12-minute mark to a standing ovation. He then reads from Psalm 139, and at the end of the service he is asked by his daughter to give the benediction. "Now may the Lord bless you and keep you and make his peace to shine upon you and be gracious unto you all the days of your life. Amen," he said before returning the mic to his daughter.
In February 2012, the iconic Crystal Cathedral building and its adjacent campus was sold to the Roman Catholic Diocese of Orange for future use as the diocese's new cathedral. According to the terms of the sale, the building and most of the campus will continue to be used by the ministry for up to three years before being renovated for use as a Catholic cathedral.