Crystal Cathedral Founder Robert Schuller's Belongings Auctioned Off Online
Recently deceased Crystal Cathedral Ministries founder Robert Schuller's belongings are being auctioned off online.
The estate sale company Everything But The House has been working with Schuller's daughter, Carol Milner, on the auction, which began on Aug. 7 and will run until Wednesday.
Michelle Lee, vice president of Merchandising at EBTH, directed The Christian Post to the auction page, with the bids and sales being exclusively done online.
The auction page included a note from Milner, in which she recalled how her late father was viewed by many to be "Hollywood's pastor" over his "Hour of Power" program.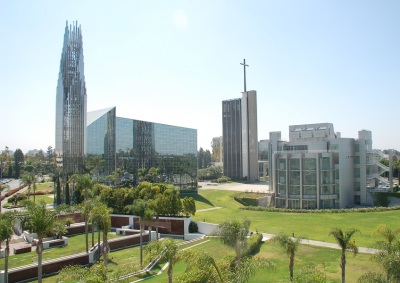 "We could not go to a dinner out without multiple people approaching for a handshake, a hug, an autograph. Many times, we just wanted Dad to ourselves," wrote Milner.
"Dad's life was a privileged one, not because of his access to fame and success, but because of his access to those moments when people need to be known and heard and hovered over, so that loneliness and the fear don't alienate them from God."
As of Monday afternoon, items with some of the highest bids include a Michael Maiden bronze sculpture called "The American Dream" ($2,650); a Robert Wyland limited edition bronze sculpture called "Genesis" ($2,293); an early 20th century angel holy water font carved from marble ($1,850); and a collection of Wallace Sterling silver flatware ($1,700).
Schuller and his wife, Arvella, founded the Crystal Cathedral church in Garden Grove, California, in 1951, with the first worship space being a drive-in movie theater.
In 1970, Schuller started the massively popular and influential "Hour of Power" religious program, which is presently overseen by his grandson, Bobby.
Ten years later, the pastor officially started services in his new Crystal Cathedral, an expansive glass and steel sanctuary with at least 10,000 windows.
During the 2010s, things got bad for the Cathedral and its ministries. They filed for bankruptcy and eventually had to sell off the large worship building to the Roman Catholic Diocese of Orange.
There was also extensive legal action between the Schullers and Crystal Cathedral Ministries over financial issues and compensation.
In April 2015, Schuller passed away at age 88. Later that month, his funeral was held in the former Crystal Cathedral, now called Christ Cathedral.
Days after his death, his daughter Milner created a GoFundMe page meant to raise money to pay for funeral expenses. While it had a goal of $30,000, as of Monday it raised only $6,760.
According to the Orange County Register, profits from the auction will go to pay the late Schuller and his wife's debts and expenses stemming from the economic downturn.
"Milner, a daughter and the trustee of the estate, did not disclose how much debt the Schullers still have, only that it is 'significantly more than our assets,'" reported the Register on Saturday.