Just Like Jesus, Davey Blackburn Forgives Wife's Alleged Killers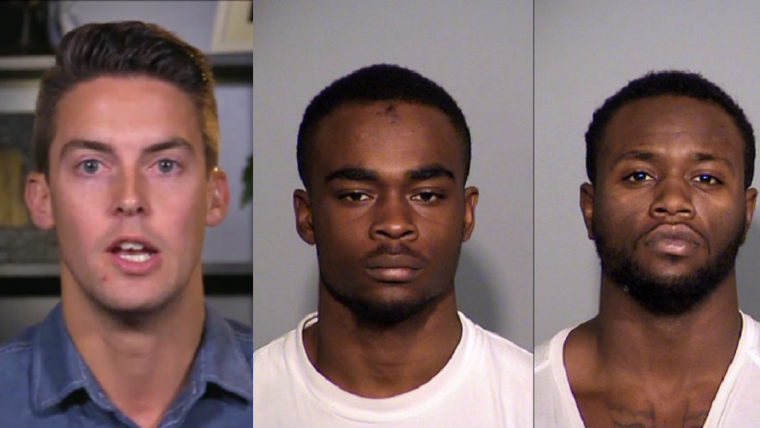 With his father-in-law by his side, Amanda Blackburn's grieving widower, Davey, reacted just like Jesus on the cross to his wife's alleged killers Wednesday when he declared "Father forgive them for they don't know what they are doing."
A copy of the affidavit of probable cause against Amanda's suspected killer, Larry Jo Taylor Jr., 18, and his accomplice, Jalen Watson, 21, released Monday by the Marion County Prosecutor's Office, painted an agonizing picture of what Pastor Blackburn's wife suffered on the morning of Nov. 10 while he was away at the gym.
The autopsy conducted on Amanda on Nov. 12 revealed: "(She) sustained a gunshot wound to the back of her head. She also had a gunshot wound to the lower left arm which traveled up to her biceps. She also had a through and through gunshot wound which entered and exited her upper back."
The document further indicated that Amanda had "scratches to her left cheek, a split lip and a lower tooth knocked out." Her 13-week-old unborn daughter, Everette "Evie" Grace, also died.
Taylor, according to a confidential informant, allegedly confessed to shooting Davey's wife while their young son slept in the couple's home.
In a pitch perfect model of grace during an interview with "Fox & Friends" in which he appeared with Amanda's father, Pastor Phil Byars, lead pastor of First Baptist Church in Elkhart, Indiana, on Tuesday, Davey invoked a version of Luke 23:34.
"I don't want to live my life going down the path of bitterness because it will destroy my soul and it will destroy everybody around me if I choose that (unforgiveness)," explained Blackburn.
"So today, I choose forgiveness. And tomorrow, I pray that I can wake up and choose forgiveness by the power of Jesus Christ. One of the things about Jesus when they were inflicting way more pain than any of us can imagine on Him, on the cross, He looked out and he said, 'Father, forgive them,9 for they don't know what they're doing.' And so that spirit lives in us and we're just praying His spirit would help us in that," he added.
On Tuesday, during a 20-minute court hearing, a judge entered not guilty pleas for both Taylor and Watson who were assigned public defenders, according to the Indy Star. They were scheduled for a pre-trial conference hearing on Jan. 8, 2016. Between now and then local authorities are expected to continue processing additional evidence against them.
Pastor Blackburn explained that even though he is distraught over what happened to his wife, he is choosing to forgive her alleged killers now because if he waits until he feels like doing so, it won't be true forgiveness.
"Forgiveness is really interesting in that it's not a feeling. And I feel like if you wait to feel like you are ready to forgive then you are never really gonna be able to forgive. Because when someone inflicts pain on you or an offense this grave, I don't feel like you ever feel like forgiving," he said.
"One of the things that I learned from Amanda, and that we really learn as we walk with Jesus, is that if we were to make our decisions based on emotions then we would live a miserable life," he continued.
"This world would be even worse than what it is right now. So although we don't feel like forgiving, what we feel like is anger and hatred and loneliness and confusion. We choose to forgive, and the thing is about forgiveness, it's a daily decision. We're gonna have to wake up every single day and face that decision, over and over for the rest of our lives," he said.
"One of the things about Jesus is when they were inflicting way more pain than any of us could imagine on him, on the cross, he looked out and he said, 'Father, forgive them for they don't know what they're doing.'" Pastor Davey Blackburn says he is ready to forgive the suspects for killing his wife.

Posted by Fox & Friends on Tuesday, November 24, 2015