DC Archdiocese Sues Metro, Says Christmas Ad Rejection 'Hostile to Religion'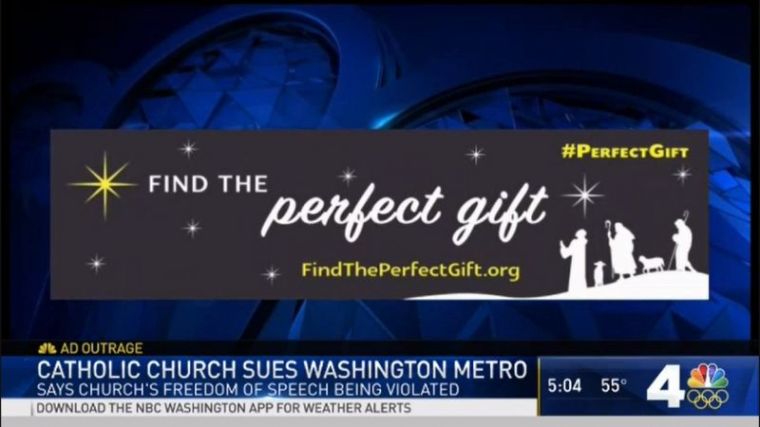 The Roman Catholic Archdiocese of Washington D.C. has filed a lawsuit against the Washington Metropolitan Area Transit Authority for the latter's guidelines which reject religious advertising, after its "Find the Perfect Gift" ads were turned down.
"The rejected ad conveys a simple message of hope, and an invitation to participate in the Christmas season. Yet citing its guidelines, WMATA's legal counsel said the ad 'depicts a religious scene and thus seeks to promote religion,'" argued on Tuesday Ed McFadden, Secretary for Communications for the Archdiocese of Washington.
"To borrow from a favorite Christmas story, under WMATA's guidelines, if the ads are about packages, boxes or bags ... if Christmas comes from a store ... then it seems WMATA approves. But if Christmas means a little bit more, WMATA plays Grinch."
The lawsuit positioned that Metro's ban on religious advertising is "hostile to religion."
"The ban effectively silences any viewpoint that might challenge commercialism or consumerism or attempt to emphasize the religious reason for the season," it states.
Kim Fiorentino, the Archdiocese of Washington's Chancellor and General Counsel, argued that the rejection of the ad, which depicts three shepherds leading sheep under a starry sky as part of a Nativity scene, constitutes violation of free speech.
Susan Timoney, secretary for pastoral ministry and social concerns for the Archdiocese, added:
"Our ad was designed to be placed on metro bus exteriors to reach the broadest audience and to invite everyone to experience the well-accepted joyful spirit of the season, or to share their many blessings with others less fortunate through service opportunities."
Timoney continued: "The Archdiocese wishes to encourage our society to help feed, clothe, and care for our most vulnerable neighbors, and to share our blessings, and welcome all who wish to hear the Good News."
The website for the initiative states that "Jesus is the perfect gift," and promotes mass times and Catholic worship in D.C.
NBC News reported that Metro is denying it did anything wrong in rejecting the ads, however.
"In 2015, WMATA changed its advertising policy to prohibit issue-oriented advertising, including political, religious and advocacy advertising," spokeswoman Sherri Ly said in a statement.
"The ad in question was declined because it is prohibited by WMATA's current advertising guidelines."
Metro's Board of Directors decided in May 2015 to stop allowing political or religious advertising on its transit system, following the petition of an activist group to run a cartoon ad depicting the Islamic Prophet Muhammad.
U.S. political activist Pamela Geller, co-founder of groups such as American Freedom Defense Initiative and Stop Islamization of America, argued at the time that Metro's decision goes against the First Amendment.
"These cowards may claim that they are making people safer, but I submit to you ... they are making it far more dangerous for Americans everywhere. Rewarding terror with submission is defeat," Geller told News4 back then.