Baby Jesus Statue's 'Shocking' Replacement Head Alarms Worshipers
Baby Jesus Statue's 'Shocking' Replacement Head Alarms Worshipers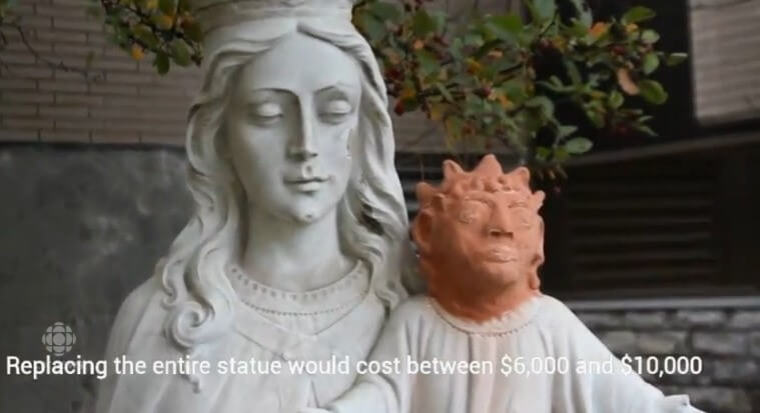 UPDATE: 7 p.m. ET, OCT. 21: CBC News reports that the temporary terra cotta head of a baby Jesus statue has now been removed because it was "damaging the exisiting statue." 
CP's original post: 
Church members, visitors, and even the priest at Sainte Anne des Pins Catholic Church in Sudbury, Canada, have remarked that an artist's attempt at restoring the missing head of a decapitated baby Jesus statue with a temporary terra cotta substitute is "shocking to the eyes."
"It really is shocking to the eyes because of the big contrast in color," Father Gerard Lajeunesse told CBC News, referring to the bright orange clay the artist Heather Wise used to create a temporary replacement for the statue.
The Canadian church has been struggling to find someone to rebuild the vandalized pieces of the stone statue, which features the Virgin Mary holding baby Jesus in her arms — as a replacement for the whole statue could cost up to $10,000, or $7,500 USD, BBC News reports.
Lajeunesse remarked that despite the strangeness of the new head, he knows Wise was acting "out of the goodness of her own heart."
"I'm hoping it wasn't done out of malice. It might be somebody took on a challenge or whatever and the head fell off, and what do you do with this? A lot of things happen around here."
"It's a first try. It's a first go," he added.
"And hopefully what is done at the end will please everyone. I wasn't trained for this in seminary," the priest said, referring the artist's plans to build a permanent stone head for Jesus at a later date.
Wise admitted in an interview with Sudbury that she had never used the type of clay material before.
The artist said that she was "sad" after seeing the missing head of the statue.
"My feelings were hurt when I saw it, because I thought 'Who would do that?' It's just not a positive feeling to see that. I said 'I'm an artist, I would like to fix it.'"
She continued: "My friend said, 'Then why don't you? Let's walk over to the priest right now.' I knocked on the door, talked to the priest, and we've been getting this together, because we had to find out a way of doing it."
The artist revealed that she will seek advice from local headstone carving companies before starting work on a permanent stone head for Jesus, which she hopes will be ready for spring.
"I am privileged and thrilled to be able to do this," she said. "To do a statue of baby Jesus for a church is like an honor of my entire art career."
Online commentators have likened Wise's attempt to another famous botched restoration project, namely the "Monkey Christ" painting in the northern Spanish town of Borja, which has been attracting hundreds of thousands of visitors.
The original painting was called "Ecce Homo" ("Behold the Man"), but elderly artist Cecilia Gimenez attempted in 2012 to restore the fresco, only to end up with a distorted unfinished effort more resembling a monkey than the Son of God, as visitors observed.