Deion Sanders Says He's Submitting to Jesus After Winning $2M Lawsuit Against Ex-Wife Pilar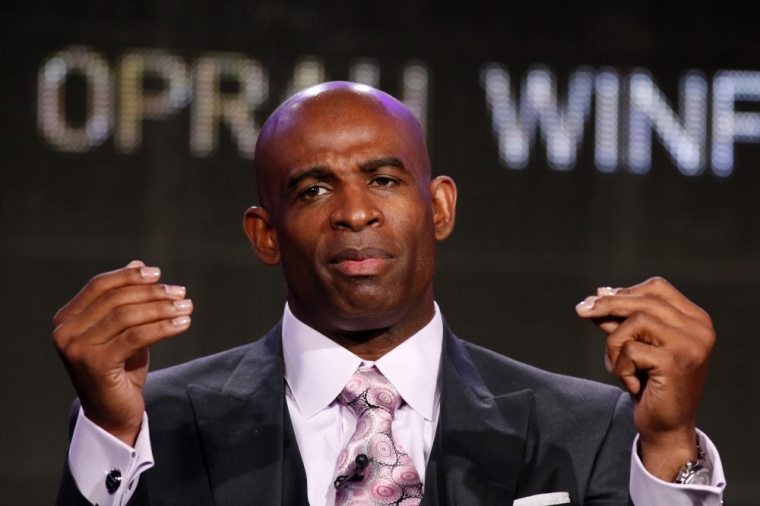 Deion "Prime Time" Sanders says he's submitting to Jesus after celebrating an off-field victory in the form of winning a $2.2 million defamation lawsuit against his ex-wife, Pilar Sanders.
Pilar, the 41-year-old actress, previously accused Deion, the 48-year-old NFL Hall of Famer, of abusing her and their children. Now, TMZ is reporting that Pilar has to pay $2.2 million after defaming Deion's character, which also cancels out any money the athlete would have paid in their divorce settlement.
While TMZ is reporting that Deion feels "relief and vindication," he took to Twitter to retweet a message from the Bossip blog about the lawsuit before revealing how his life changed when he surrendered to Jesus.
"At one point in my life fishing was the only thing that brought me peace and then I surrendered to Jesus and he and made me a fisher or men, women and children of all ethnicities," Sanders wrote on Instagram.
After 12 years of marriage, Deion and Pilar endured a very public breakup that has played out in media interviews and across social media platforms. Last year, a domestic altercation allegedly took place at the former couple's $5.7 million home where each alleged that they were attacked by the other.
A judge ruled, however, that the hall of famer was only defending himself against Pilar's assault.
Deion also accused Pilar of being "certified crazy" while defending himself against her claims.
"When a man walks away, that tells you a lot about the situation. When a man wins custody, that tells a lot about the situation," he previously told Bossip. " ... If you understood what transpired in court, the lies about the abuse. I mean when somebody says that you attempted to murder them, how can you kidnap your own kids and you got custody of them?"
During the custody battle last year, Sanders spoke about his estranged wife, saying in a DallasNews.com report: "(Pilar) is still searching. She doesn't know what she wants to be. When someone tries to destroy everything you are and everything you stand for, that's kind of hard. It's hard to communicate when you know the fabric of that person."
Last year it seemed to be a struggle for Deion to forgive Pilar for her alleged defamation and admitted that it might take him more time to pray about the situation.
"God established me, not man nor woman. So, I ain't going nowhere," he previously told Bossip. "I'll pray on it; but no time soon."
These days it seems Sanders is in a much different place spiritually.
"Good morning and God bless," Sanders wrote one day after retweeting the story about his defamation lawsuit victory. "Forgive and live today ignorance free. #Truth."