Demonologist and Ex-Cop Behind Possession Film 'Deliver Us From Evil' Says Everyone Born Into Spiritual Battle
Ralph Sarchie, Former NYPD Officer, Gives Inside Look at Exorcism Ahead of Movie's Release
Deliver Us From Evil, the latest in a string of Hollywood projects inspired by belief in the demonic, is based on the experiences of a former police officer-turned-demonologist who says everyone born automatically becomes involved in a spiritual battle, whether or not they believe in God.
"I'm a messenger that's it. I'm not an angel. The word angel means 'messenger.' But I'm a human person and I just have this message and you can believe in it if you want. You don't have to. I don't really care," explains former New York Police Department Sergeant Ralph Sarchie in a behind-the-scenes video on how his work inspired Deliver Us From Evil.
Sarchie, who uses colorful language to explain what happens when one chooses to "expose the devil," as he describes his work, compares the negativity he would routinely encounter during his 18 years as a police officer to the negativity he is exposed to by the demonic during exorcisms.
"Different kind of perpetrator, but a perpetrator nonetheless," he says, later calling criminals "secondary evil" and what he faces as a demonologist "evil at its source."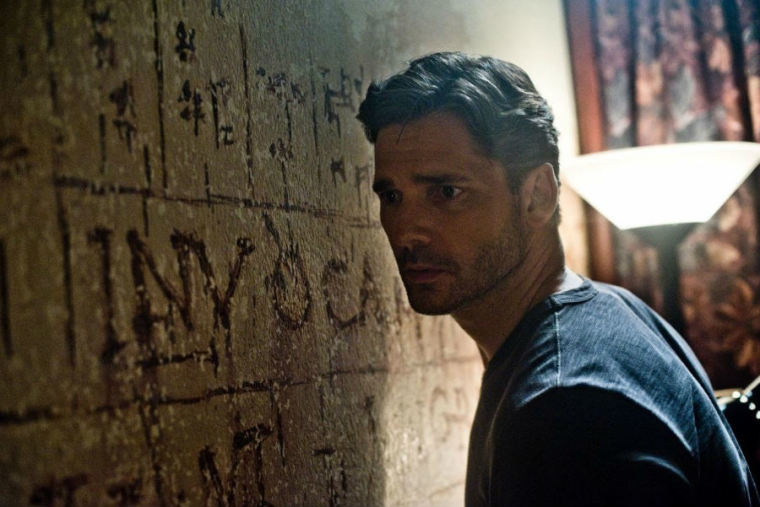 Deliver Us From Evil, starring Eric Bana as Sarchie, is based on a 2001 book the former NYPD officer wrote with Lisa Collier Cool titled Beware the Night. In Beware the Night, Sarchie "discloses for the first time his investigation into incredible true crimes (and) inhuman evil that were never explained, solved, or understood except by Sarchie and his partner," according to the publisher.
Sarchie, a Roman Catholic, insists that his spiritual work is not to entertain people, but to help people. He says in the video, however, that Deliver Us From Evil might scare some people but that "it should be enjoyed."
"There are messages inside this movie," he says.
Armed with a prayer by Pope Leo XIII and a crucifix, which he says is the equivalent of a gun, Sarchie allows the cameras to record a house visit in which the owners believe an evil force is at work. After reading the prayer, Sarchie, crucifix in hand, commands the entity "in the name of our Lord Jesus Christ" to leave and "go where the Lord sends you, harming no one along the way."
He explains afterward what he believes could happen after an exorcism, referencing Matthew 12:43-44.
"This demon will come back with seven more powerful to find the house all tidied up, swept and tidy. That's what exorcism does. It sweeps everything up, it gets all the uncleanliness out. You're now supposed to fill it with the holy and the light. If you don't do that, something more powerful is gonna come back, it's gonna fill that void," says Sarchie.
Near the end of the 15-minute video featurette, Sarchie insists, "It does not matter if you believe or not. You don't have to believe in God. You don't have to believe in the devil. It doesn't withdraw you from this battle. You're involved in it. You were born into this world. No, you probably didn't ask to be born, but you're here. You need to make a choice. You need to pick a side."
The former cop suggests that the devil would be upset if any moviegoers who watch Deliver Us From Evil become convinced of his Christian beliefs and "turn back to God."
"The devil hates that s***," he says.
According to movie review website Rotten Tomatoes, audiences are highly anticipating Deliver Us From Evil's July 2 release, which is not surprising considering Hollywood's recent successes in its exploration of the demonic. Deliver Us From Evil comes on the heels of films like  Paranormal Activity: The Marked Ones and The Conjuring, two of the top-grossing horror films of all time, and precedes titles like Paranormal Activity 5 and Jessabelle. A 2013 YouGov survey revealed that at least half of all Americans believe in demonic possession, with that number climbing dramatically among born-again Christians, at 72 percent.
Edgar Ramirez and Olivia Munn star alongside Bana in Deliever Us From Evil. Director Scott Derrickson and Paul Harris Boardman (both of The Exorcism of Emily Rose) wrote the screenplay. The film is rated R for bloody violence, grisly images, terror throughout, and adult language, according the MPAA.
The video below on Ralph Sarchie contains adult language.