Derrick Jaxn's Christian wife rebukes critics as new mistress calls his apology for affairs a sham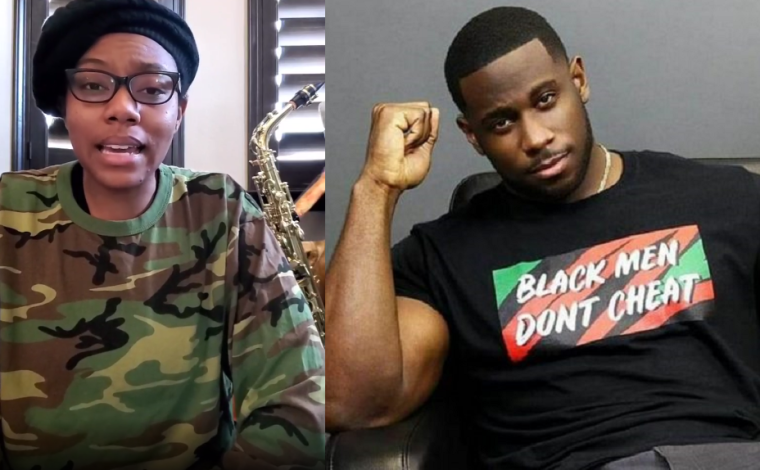 The defiant wife of embattled Christian relationship guru Derrick Jaxn invoked Scripture and the "blood of Jesus" against critics of their marriage Wednesday, as a newly revealed mistress called him a "sex addict" and alleged his recent confession of being a changed man is a sham because they had sex only days ago.
"I did not come here to play games and to play dress-up. I came here in my battle suit. I came here in the battleground covered in the blood of Jesus. I received the anointing of the warrior and I spill the blood of the enemy," Jaxn's wife, Da'Naia Jackson, declared in a broadcast on Instagram Wednesday.
Jackson's response came after critics raised concern online about how she was dressed as well as her mental health when she appeared with her husband in an apology video on Monday, in which the man who helped promote a "Black Men Don't Cheat" campaign confessed to cheating on his wife of four years with multiple women.
"You see a bonnet, I see the helmet of salvation. You see an army green shirt, I see the breastplate of righteousness. I see the belt of truth, I see the sandals of peace, the sword of the spirit, which is the word of God and the shield of faith. And I've come to the battleground covered in the blood of Jesus to proclaim victory over sin," Jackson declared to her critics, insisting her marriage will survive her husband's scandal.
"You came for gossip, I came with the Gospel. You came to blame, I came to slay with the power of the Holy Spirit. And I take authority as my master has given me because behold, I have seen Satan fall like lightning.
"I come trampling over snakes and scorpions and to overcome all the powers of darkness that wants to suck up marriage and divide the house of God and divide the men and women of God from each other. Some of you don't understand this because you don't have Kingdom thinking, you don't know Kingdom principles, and you don't know to act and walk in Kingdom glory. With that, I stand boldly on the word of God. And it says touch not my anointed and do my prophet no harm," she said, quoting the book of I Chronicles in the Bible.
On Monday, three days after vlogger Tasha K. released an interview with a woman identified as Candice De Medeiros alleging she had an affair with Jaxn last summer, Jackson appeared with her husband on social media in which he apologized for his behavior and suggested he had turned over a new leaf.
"Now that it's been made so public, it's important that I, first off, let you guys know that I do not stand by those actions. I don't want to encourage anybody to do that. And then secondly, I know that I cannot build a platform preaching certain things, preaching against certain things, and then in my real life, live contrary to that for any amount of time or any length of time to any extent and think that I can't be held accountable," Jaxn said in the video.
His wife also said her husband confessed his sins to her months ago and they had begun work to repair their marriage with the help of counselors and support from men of God. Jaxn also said he had cut himself off from all the women he had extramarital relationships with.
"I forgave him. And most importantly, God has first forgiven him, and I also forgive the others as well. And with that, we are free and moving forward. So that's all I have," his wife said Monday.
Shortly after his confession on Monday, however, Jaxn's latest mistress, a surgeon identified only as Nikki, told Tasha K. in an interview published Wednesday that she cringed after watching Jaxn's recent confession with his wife by his side because they had sex on March 18.
She said the same day he made the apology video, he called her and tried to get her to not speak publicly about their relationship. She is currently prevented from speaking further by a gag order.
"He has never came to me religious. This is a new Derrick," said Nikki, who said they met last October.
"He reached out to me last night and said if anyone contacts me, for me to [inaudible] hang up and block them. He said all of this was, he was supposed to do an interview with a blogger and he declined the interview and now this blogger is on a smear campaign," she told Tasha K.
She said at the time she received the call, she was unaware of the drama unfolding in his life because she didn't spend a lot of time on social media. After his call however, she discovered what was happening and she was livid.
"When he reached out to me last night, his biggest fear was I have cameras in my home and I can prove that he was there. I can prove anything that needs to be proved," she said of their relationship.
She explained that she learned that he was married after she became pregnant with his child in late November. The 32-year-old surgeon said she had an abortion because she was just getting started with her career and wasn't ready for a child.
"He never told me he was dealing with other women," she said of Jaxn's Monday confession.
She said she asked him what the video with his wife was about and he said he was just "trying to save face" and that his wife only came to the home to do the video for that purpose. It was also alleged during the interview that he had a deal in the works with megachurch Pastor T.D. Jakes that he was concerned could be impacted by the scandal. The Christian Post could not immediately verify claims of a deal with Jakes.
Nikki said she blocked Jaxn from contacting her now, noting that "he can't even get through our gate anymore."
She described him as a "sex addict" and said he never talked about God when they were together.
"He talks about self-control," she said. As far as she knew, his narrative about walking with God, "that's not him. That is something that he just picked up because usually, he's talking about investing. Talking about money."
She added that he told her he was a motivational speaker who also speaks at his church. She also noted that he told her he'd been separated from his wife for at least 18 months and had not yet gotten a divorce because his wife's Christian family did not believe in divorce.
"He told me that she did not want to divorce because she was from a Christian home and divorce wasn't something, they … believe in, so her parents advised to separate until further notice," Nikki said.
The surgeon also called Jaxn "aggressive" and speculated that she thinks his wife could have suffered physical abuse during their marriage because of what she experienced with him.
"[In] the video, she looked like she was afraid. He's very aggressive. I basically told him a couple of days before Christmas that he had to leave because he was yelling in my house. And he grabbed me by my arm and was like, 'I'll leave when I be ready to leave.' So I'm pretty sure if he roughhouses me … I'm pretty sure it's worse in their home," Nikki said.
In her video on Wednesday, Jaxn's wife said she had the protection of a host of angels.
"As I speak the word of God, an innumerable amount of angels, war angels, are being released to fight the good fight on the behalf of all those looking for their freedom. Who are searching for their freedom and do not know to get it. But we overcome by the blood of the lamb and the power of our testimony. And that is exactly what we will do. There is no fire that can burn us. There is no mountain that can stop us. There is no giant that can defeat us because we have Him, our Lord and Savior," she said.