Detroit World Outreach Pastor's Widow Arrested During Worship in Fight Over Megachurch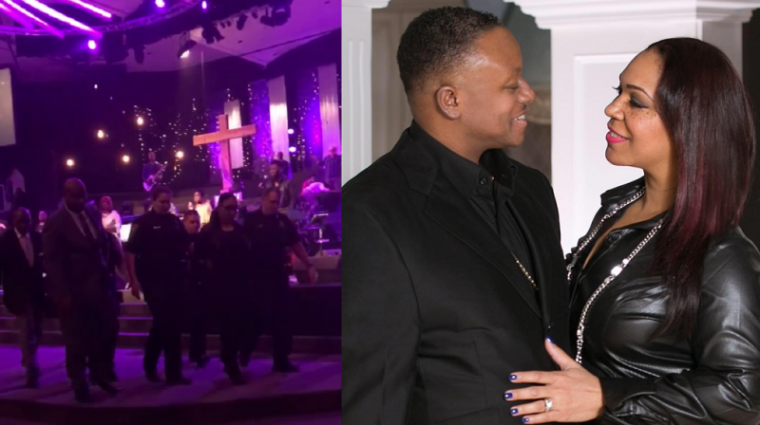 A dispute between the board of elders of the 5,500-member Detroit World Outreach Christian Center Church in Redford Charter Township, Michigan, and Charisse Gibert, wife of the megachurch's late Pastor, Benjamin Gibert, turned ugly Sunday morning when the one-time first lady was arrested and escorted from the building in handcuffs in the middle of worship.
The arrest comes just two months after the death of Charisse Gibert's controversial husband who had been criticized for his lavish lifestyle.
"If you weren't at 8 o'clock service, I have to let you know that at 8 o'clock service, I was arrested for worshipping the Lord in the house of the Lord, where bishop and I have been members for 17 years and pastored for 12 together. So I want you to know that I am OK. They did arrest me, they did process me. I am in a safe place. And I want to let you know that no weapon formed against me or us will prosper," Charisse Gibert noted in a message to her followers on Facebook Sunday morning.
Dramatic video of her arrest, which she also shared with her followers, shows multiple officers walking into the 8 a.m. worship service. It's unclear from the video whether there was some effort from church members to prevent the arrest during the worship service but officers appeared to have a discussion with members of the church as Gibert lifted her hands in worship. She then walks toward the pulpit at the church as praise singers kept ministering. Police officers, however, followed after her and arrested her as the church members watched.
The Christian Post reached out to Detroit World Outreach Christian Center Church for comment on Monday but did not receive a response by press time.
The Redford Township Police Department was also unable to immediately provide details on why Charisse was arrested during the church service.
In a previous statement posted online, however, Pastor Gael Wallace and elder Marvin Wilder, who are both members of the church's board of elders, explained that since March 14, about two weeks after the death of Bishop Gibert, the board has been at odds with Charisse.
They explained that Charisse believes that she is entitled to the job of senior pastor of the church but that decision must come from the church's board of elders, which she refuses to accept.
"We've been accused of treating Charisse and the Gibert family poorly following Bishop Gibert's transition. As a result, it is important for the members of DWO to know what has been done to provide for the Gibert family and honor bishop's legacy following his transition," Wallace said.
Wilder explained that the church had started planning for the eventuality of their late pastor's death more than a decade ago when he first assumed the role of senior pastor.
"We maintained multiple insurance policies over the years. One policy is the same insurance policy all employees at DWO receive. But there were two key policies of $2 million each. Only one of these policies was there a split beneficiary with the church. The remaining policies were exclusively for the Gibert family," Wilder said.
"Our plans, developed jointly by the board and bishop ensure that Charisse and his (bishop's) family were well cared for, for the rest of their lifetime. The cost of the funeral were paid from the life insurance proceeds. We also wanted to ensure that Charisse had the time to properly grieve following the death of her husband without worrying about the care of her family. So we have continued to pay the $25,000 monthly mortgage on the parsonage," Wallace added, pointing to the sprawling multi-million dollar mansion the late bishop lived in with his family.
"Before Bishop Gibert's transition, he and the board of elders had agreed two years ago that the church parsonage that he lived in should be sold due to the tremendous costs associated with maintaining the property," Wilder explained.
Wallace noted that the board of elders, despite the $25,000 monthly expense on the mansion, have decided to absorb the expense on the home until June when Charisse's youngest child completes the school year.
They said four days after Bishop Gibert's memorial service on March 14, the board of elders requested a private meeting with Charisse to discuss the transition process "and what would be done to provide for her and her family in addition to the insurance proceeds."
"It was at that meeting that she brought her lawyer in and declared that she was taking over the senior pastor position at DWO," Wilder said.
That move by Charisse, the board of elders explained, resulted in a "complete breakdown in the relationship" between them.
"After Charisse brought in her outside attorneys, the board of elders took steps to protect DWO legally and ensure that we could complete the senior pastor selection process that we were commissioned to do since bishop died without an express written succession plan. The board of elders, using lawyers that are also members of our church, filed the lawsuit after it became clear that Charisse was unwilling to allow us to complete the senior pastor selection process," the elders explained.
They claimed that Charisse has interrupted service, asked members to withhold tithes and give them to her, and even attempted to change the church's bank accounts. In a later video, they announced that they had formed a senior pastor selection committee.
A response to CP from Charisse Gibert regarding Sunday's arrest is pending.
The late Bishop Gibert and his wife, according to the church's website, were partners in all aspects of ministry. They were married for more than over 22 years and produced four children. 
Among their mentors are Bishop I.V. and Bridget Hilliard of New Light Church in Houston, Texas. 
In apparent support of Charisse Gibert, Bridget Hilliard acknowledged her in a Facebook post as the pastor of Detroit World Outreach Christian Center Church and encouraged members to trust her with their tithes.
"DWO members meet your Pastor Charisse Gibert at Crown Plaza Novi Oaks Michigan at 5 p.m. Worship without distractions and you will be able to give your tithes and offerings in good soil. #ForwardTogether," she wrote.
The DWO board of elders  charged in a statement that while the dispute with Charisse is uncomfortable they are carrying out the duties with which they were entrusted.
"As we have said before, this is a disagreement, but need not be a divide. It has only been a month since our beloved Bishop Ben transitioned and many of us have not been able to truly grieve. There is a lot of discomfort on both sides of this disagreement. This is not just the elders or Charisse, but the entire DWO family," they said in the statement last month.
"Our hearts are heavy because we know that there is discord. We never thought that DWO would be involved in a disagreement like this, especially given what we have all been taught by Bishop Ben. We ask for you to pray for us, for Charisse, and the entire Gibert family.
"Bishop Ben commissioned us to serve as the elders of our Church and to ensure that DWO always meets the needs of the church family. We are here to serve, but right now it is definitely challenging. We are encouraged though because we know that He will never put more on us than we can handle," the elders added.