Devil Shows Up at NewSpring Church for 'Angels & Demons' Sermon Series
Pastor Perry Noble Tells CP Warfare Series Will Expose Satan's 'Weapons of Mass Destruction'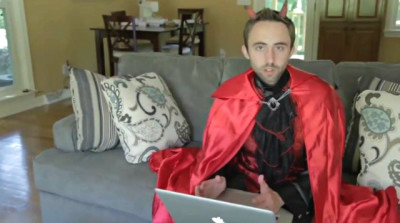 The devil lives in Anderson, South Carolina. He's been hanging around Pastor Perry Noble's NewSpring Church campus causing quite a bit of mischief, despite claiming he's not such a "bad dude" after all.
The devil in this case, portrayed by horned, caped and velvet-clad NewSpring Worship Leader Tadd Tatum, is on hand to help promote the megachurch's new sermon series about spiritual warfare, called "Angels & Demons."
The series, expected to run for five weeks, is meant to arm Christians in their battle against what the Bible calls "principalities and powers," and will cover a theme Pastor Noble says is present in Scripture "pretty much from Genesis to Revelation."
"C.S. Lewis said in Screwtape Letters that there's two equal and erroneous errors to spiritual warfare," Pastor Noble told CP. "One is to say basically that it does not exist. The other is to take an unhealthy obsession in it. I don't think Christians need to take an unhealthy obsession in the devil and demons and spiritual warfare. I do think that we need to be aware of it. Paul said in Ephesians chapter six (verse 12) that we really are wrestling with principalities and powers, so we need to be aware of it so we can recognize it, so we can go, 'Oh I see what this is, and this is how I get pass this or this is how I get over this.'"
Noble, who is senior pastor of the South Carolina megachurch he founded in 1999, explained that the five-week sermon series will kick off by answering typical questions folks might have about the issue.
"The first two weeks is going to be more of what I call the 30,000-foot view – we're just going to answer basic questions," he said. "In fact, about a month and a half or two months ago, we went to our social media accounts. We went to Twitter and Facebook and we asked people what questions (they) have about spiritual warfare. We got all kinds of questions and we kind of took those and we narrowed them down. Over the next two weeks, we'll be answering what we saw as the eight most common questions about warfare."
Following those two installments, is a sermon, falling on Father's Day, that will be especially tuned for dads and address the kinds of spiritual attacks they may face.
"Then the last two weeks, the 23rd and the 30th, I'm going to talk on what I call Satan's weapons of mass destruction," added Noble. "He's got two things that he typically uses to cripple nearly everyone with, and if you learn how to identify what they are and know how to overcome them, you can walk in victory."
The series, starting Sunday, June 2, has been propelled by NewSpring's "Angels & Demons" website, which features video clips of the devil (Tatum) doing his thing — like keying cars, throwing cats into the backseat of parked vehicles and whining about a broken pitchfork.
"It's not as easy being the devil as everyone might think. I know everyone likes to think my life is just one big party, all the time," gripes the devil in one YouTube video in which he's doing some online shopping from his couch. "But have you ever tried to find a pitchfork? A decent one? Just the other day, my favorite one that I've had for at least 1,500 years, it broke on me. And now I have to find a new one, and they just don't make them like they used to."
The devil, a fan of author Nicholas Sparks and credit cards, has a popular Twitter account and growing Instagram following.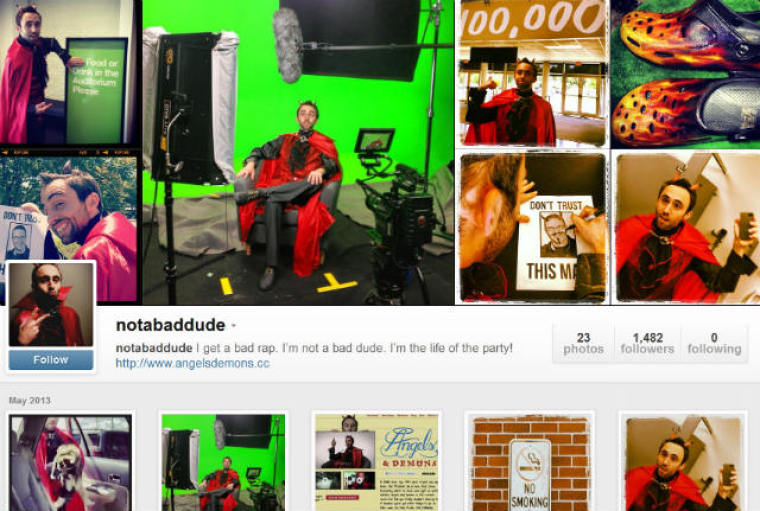 He also recently sat down for an exclusive interview with Pastor Noble, who quizzes him about his claims to be "good" and what it might look like if he were ever in charge of a church.
Watch the in-depth interview below:
When asked by CP if he was at all concerned that NewSpring's devil might actually come across as a regular guy (who likes jamming to Ke$ha while driving), Pastor Noble said Tatum's portrayal of the figure whom Jesus calls the "father of lies" and a "murderer" in John 8:44 is actually an attempt to put 2 Corinthians 11:14 into play, which says that "Satan himself masquerades as an angel of light."
"We wanted to portray him as sort of a character who's trying to convince people (that he's) really not a bad guy," said Noble, after noting that "how Hollywood portrays the devil and how Scripture portrays the devil is vastly different."
"He's always trying to tempt people. He's not only trying to tempt people with bad things, he's trying to tempt people with good things," said the megachurch pastor. "So it's one of those things where we're like, 'Well, let's portray him as somebody that is not exactly scary and not exactly threatening and not exactly intimidating. Let's portray him as who he might be … somebody that goes, 'Hey, I'm not a bad guy. I want to be your friend. I want us to hang out.'
"That's one of the points we're going to make in the series ... the devil doesn't want to drive you away from him. He wants to pull you into him, so he can influence you to do what he wants you to do."
When asked by CP what it's like having such a nasty reputation, the devil, otherwise known as Satan, Beelzebub, the wicked one, and so forth, said: "Most people think I'm nasty because they WISH THEY WERE THIS HISTORICALLY FAMOUS!"
NewSpring Church averages about 25,000 congregants across eight campuses in South Carolina, with the main campus located in the city of Anderson. Video recordings of the "Angels & Demons" sermon series will be posted on NewSpring Church's media page.