Documentary About Common Core Coming Soon; Watch the Trailer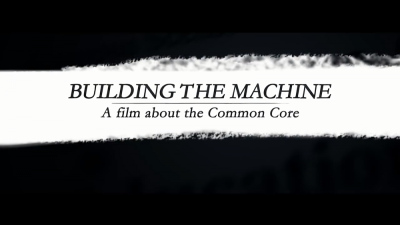 A new documentary about the Common Core produced by the Home School Legal Defense Association will be released on March 10.
The documentary, "Building the Machine," will be about 30 minutes long and available to the public for free. You will be able to watch it on YouTube or download it to your computer. A longer version, approximately 70 minutes, will be available on DVD later in the spring.
The Common Core State Standards Initiative has been adopted by 45 states as part of the Obama administration's Race to the Top program. As the standards are beginning to be implemented, there has been a growing chorus of voices, from both liberals and conservatives, with concerns about the standards.
HSLDA has been a strong critic of the Common Core. As a homeschooling advocacy group, HSLDA has raised concerns about how Common Core is impacting homeschoolers. The documentary, though, is not focused on homeschooling but the broad impact of the Common Core.
Generally, criticisms of the Common Core have come from two main areas — how the standards were implemented and the nature of the standards themselves. The trailer mostly highlights some of the criticisms of the implementation. The main focus, though, of "Building the Machine," will be on the impact of the standards on students, Will Estrada, director of federal relations for HSLDA, informed The Christian Post. Viewers will hear from both liberal and conservative critics of the Common Core, as well as some of its supporters.
You can watch the trailer below. The Christian Post will provide more coverage of "Building the Machine" in the coming weeks as part of its continuing coverage of the Common Core.