Does Ewan McGregor, Jennifer Connelly Film 'American Pastoral' Caution Against Mixed-Faith Marriages? (Review)
Does Ewan McGregor, Jennifer Connelly Film 'American Pastoral' Caution Against Mixed-Faith Marriages? (Review)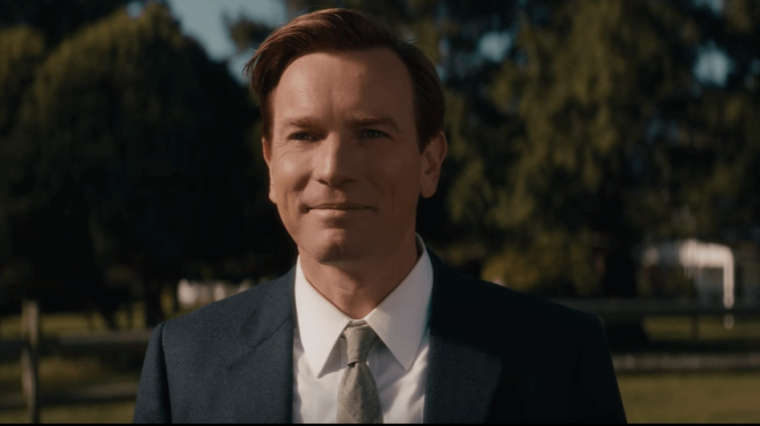 WASHINGTON — The Ewan McGregor film "American Pastoral," which opens in theaters Friday, starring Jennifer Connelly and Dakota Fanning hints that a couple's mixed-faiths can negatively impact the family.
When Lou Levov (Perter Riegert), the Jewish owner of a New Jersey-based glove factory, urges his son Seymour (Ewan McGregor) not to marry a local Catholic beauty queen and a former Miss New Jersey, Dawn Dwyer (Jennifer Connelly), but to marry within the faith, Lou wonders what religion his grandchild will be. Dawn says they will leave the decision up to the child.
The advances to 1968 — the year Dr. Martin Luther King Jr. was assassinated, America was preparing to send a man to the moon, the cost of gas was 34 cents, and life was ideal within the country's upper middle class. But outside of that bubble was a world in a state of flux and violence was about to arrive at the doorstep of the Levov family.
At 16, after a seemingly idyllic childhood — except for a severe and frustrating stutter — the couple's daughter, Merry Levov (Dakota Fanning), untethers herself from her protective parents and rages against social constructs. She engages in all manner of counter-culture activities and centers her rebellion on President Lyndon Johnson and the country's involvement in the Vietnam War.
At this point in the film, Merry's vitriol against the government gives viewers a bit of whiplash as there is no natural progression to these views, likely because the film takes a jump in time. There is, however, a moment in the film where, as a little girl, Merry is bewildered as to how people could be killed in the Vietnam War. So that may serve as a hint to viewers.
A movement with which Merry sympathizes with is the support of African Americans following the King assassination and the alleged cover up, along with other issues surrounding racial equality.
The outrage of many Black Americans, unfortunately, leads to rioting and looting in the streets of inner-city Newark, New Jersey, which then becomes regulated by the National Guard and street curfews. Merry continues to make poor choices that lead her to murder four people in bombings inspired by radical groups that oppose the Vietnam War. All the while she remains separated from her parents, which leads to their undoing and hers as well.
Merry's mother, Dawn, is hospitalized after experiencing a nervous breakdown, saying that she should've married a "Catholic boy," as opposed to a man of the Jewish faith, as director McGregor suggests that the couple's mixed-faith marriage has landed them in such dire straits. When Dawn recovers, she decides to give up on finding Merry. She has a face lift, remodels her and Seymour's home and is intent on creating a new life and putting the past behind her.
Merry causes so much pain for her parents, yet her name, ironically, suggests happiness. As the film progresses, however, she becomes a frustrated and elusive character who evades the FBI after blowing up her local post office and disappears from her family for years.
Spoiler Alert Below
Don't be fooled, either, by the film's curious name. It's the kind of name one might pass up at the box office, but would rent on DVD only to discover that it is definitely theater worthy — and of course learn that it is based on the Pulitzer Prize-winning Philip Roth novel.
Not only does Roth do a great job of telling an engaging story, but he provides a good sense of time and place. As director, Ewan McGregor tells the story with intensity. The movie is pretty heavy, and when you leave the theater you realize you had somewhat been holding your breath.
With Merry's mother dropping out of the battle to find her daughter, Seymour becomes engaged in a wild goose chase until a mysterious, unnamed woman claims to be in contact with Merry and says she knows her location. Bit by bit the woman rations out dead-end clues that anger Seymour all the more. She even lures him to a hotel and unsuccessfully seduces him to earn information on Merry's whereabouts. He does not give in, however, and eventually gets the truth.
When Seymor finally finds Merry she has been living right under their noses in Newark. Merry is living in squalid conditions in a dank room with moldy walls and no light in an apparently abandoned building. She is unrecognizable and appears raggedy, dirty, and is missing teeth. Merry tells her father that she has chosen to become a Jain — a member of an ancient religion from India that believes that the path to liberation and bliss is to live a life of harmlessness (not even killing a bug) and renunciation — a far cry from her previous radicalism.
Merry's Jainism flips the script, veering far away from both her mother's Catholic faith and her father's Judaism. It was unclear in the film whether or not Merry had chosen a religion before she became a Jain, but if she had clear religious-based morals to ground her, perhaps she may never have murdered four people and gone down the violent path she ultimately chose, the movie suggests.
"American Pastoral" is an intense film that builds with even greater intensity as it progresses. Audiences get a taste of history without the film turning into a history lesson — history is only a backdrop to a much more engrossing drama that unfolds within the Levov family.
"American Pastoral" hits theaters on Oct. 21. The film is rated R for some strong sexual material, language and brief violent images.