Does Starbucks' New Holiday Cup Feature Lesbian Couple, Promote Gay Agenda?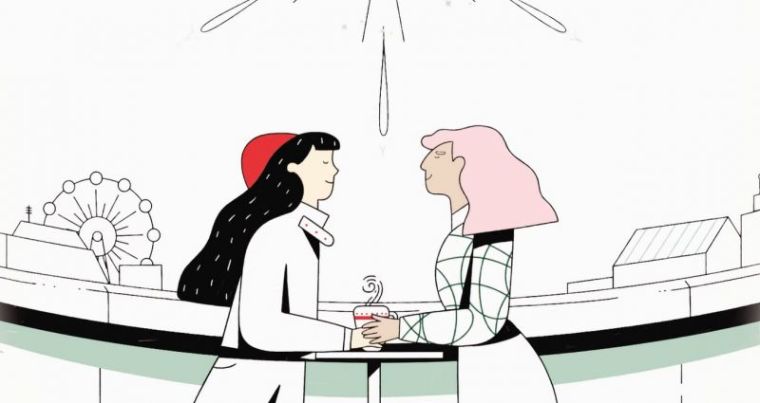 American coffee giant Starbucks has refused to deny or confirm questions regarding its 2017 holiday cup, which some say promotes a lesbian couple.
"Each year during the holidays we aim to bring our customers an experience that inspires the spirit of the season, and we will continue to embrace and welcome customers from all backgrounds and religions in our stores around the world," Starbucks told Fox News in a statement last week.
The Starbucks holiday cup is white, instead of the usual red, and features various holiday images such as a Christmas tree, presents and doves. What has sparked discussion across social media are two disembodied hands clasped together and the promotional video that depicts what some say is a lesbian couple.
The video, which launched in October, shows two women standing over a coffee, holding hands as they move their faces closer to one another.
The marketing campaign states that "the holidays mean something different for everyone."
LGBT groups, including the British LGBT Awards, have praised the new cup, writing earlier in November on Twitter:
"We're loving @Starbucks' new festive ad with a lesbian couple. Can someone draw us a @LadyGaga cup please?"
A user by the name of Rufus Dowling wrote in a separate tweet: "Great new #christmas campaign from @Starbucks featuring #lesbian couple on the Holiday Cup."
Starbucks responded to the tweet last week, writing: "We're happy you enjoy the new campaign, Rufus," adding a heart-shaped emoji.
Other outlets, such as BuzzFeed, suggested that the holiday cup has a "gay agenda."
"While people who follow both Starbucks holiday cup news and LGBT issues celebrated the video, the ordinary Starbucks customer probably didn't realize the cup might have a gay agenda," BuzzFeed wrote last week.
User discussion on social media has largely centered on mocking suggestions that the latest Starbucks cup is pushing such a gay agenda, but some have pointed to the Bible.
A Twitter user by the handle Jimmy H Peralez wrote earlier this month: "The new Starbucks cup has lesbian couple on it. Rom 1:26 'because of this, God gave them over to shameful lust'..."
This isn't the first time the coffee company sparked contoversy over its holiday cups.
In 2015, some Christians argued that Starbucks' plain red holiday cups was an attack on Christmas because its blank design did not acknowledge it. Then GOP presidential candidate Donald Trump urged a consumer boycott over the company's blank holiday cups, alleging that there is a war on Christmas.
Trump called on the boycott despite having what he described as "one of the most successful Starbucks" in Trump Tower in New York City.
The Starbucks store in question told The Christian Post at the time that the company's approach to Christmas is a reflection of the growing and diverse global community it serves.
"Since 1997, we have served our holiday beverages in a unique red cup, each year and each design telling a different story. Starbucks is inviting our customers to tell their Christmas stories in their own way, with a red cup that mimics a blank canvas," read the statement at the time.
"Over the past few years, our customers have been showcasing their work on Instagram, Twitter and Pinterest, and we even held a contest to support this creativity. This year's design is another way we are inviting our customers to create their own stories on our cups."
Watch the 2017 Starbucks Coffee promotional holiday video below: