Donald Trump Gets Only Small Group of Black Pastors' Endorsement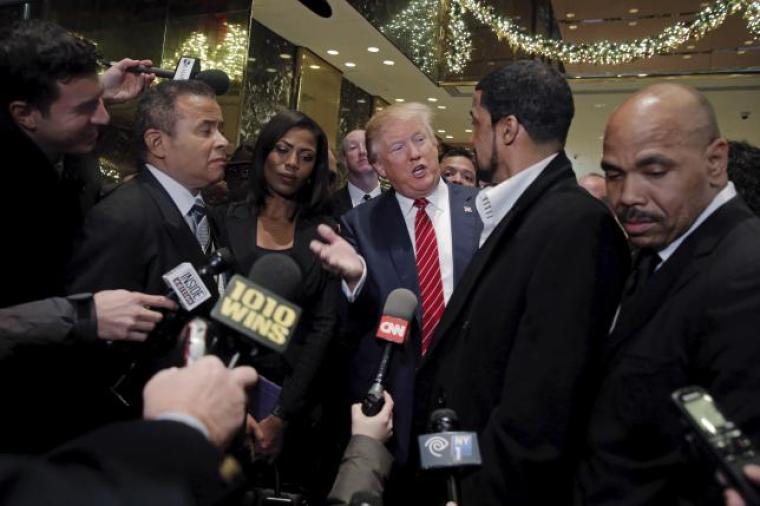 A small group of ministers from a coalition of about 100 African-American pastors have reportedly endorsed presidential candidate Donald Trump, days after meeting with the Republican frontrunner.
Black pastors met with the real estate magnate in New York late last month, but only a few of them have endorsed Trump for president, contrary to an earlier press release by the presidential candidate claiming the meeting was to be held for endorsement.
"It wasn't covered properly by the press," Trump said at a rally in Manassas, Virginia, appearing with the Rev. Steve Parson of Richmond Christian Center, according to Newsmax.
"Well, in my opinion, he's the best and the only one who can beat Hillary Clinton," Parson was quoted as saying. "Listen, we've got to win. And one thing about Donald Trump is that he's a winner. Here's another thing, too: He knows how to create wealth."
The names of other black pastors who have endorsed the frontrunner are not known.
Many black pastors are not happy with the idea of endorsing Trump. The Rev. Jamal H. Bryant, pastor of Northwest Baltimore's Empowerment Temple church, earlier said that those who met with Trump are worse than prostitutes.
During an interview on CNN, Bryant sparred with Pastor James Davis on whether or not the meeting with Trump had accomplished anything. Bryant doubled down on previous comments he made likening the pastors to prostitutes.
"I wanna apologize because prostitutes get money. And the 100 that went in there walked away with nothing. They did it for free. So there's another word for that and I would not use that language on the family channel. What I would suggest is that you couldn't find a hundred white pastors to do the endorsement. Not a hundred Rabbis, not a hundred Imams," charged Bryant.
Trump's campaign announced Nov. 25 that "a coalition of 100 African-American Evangelical pastors and religious leaders" would be meeting with him. Many black clergy have spoken out in opposition to sitting with the bombastic billionaire because of his brash discussion on race.
"Mr. Trump routinely uses overtly divisive and racist language on the campaign trail. Most recently, he admitted his supporters were justified for punching and kicking a black protester who had attended a Trump rally with the intent to remind the crowd that 'Black Lives Matter,'" noted more than 100 black clergy in an open letter to their colleagues published in Ebony before the meeting.
"I am not officially endorsing ANY candidate and when I do you will NOT need to hear it from pulpitting courtjesters who suffer from intellectual and spiritual myopia," Bishop Clarence McClendon of the Full Harvest International Church in Los Angeles, wrote in a Facebook post.