Donald Trump, Pope Francis Meet, Vow to Fight for 'Life, Freedom of Worship'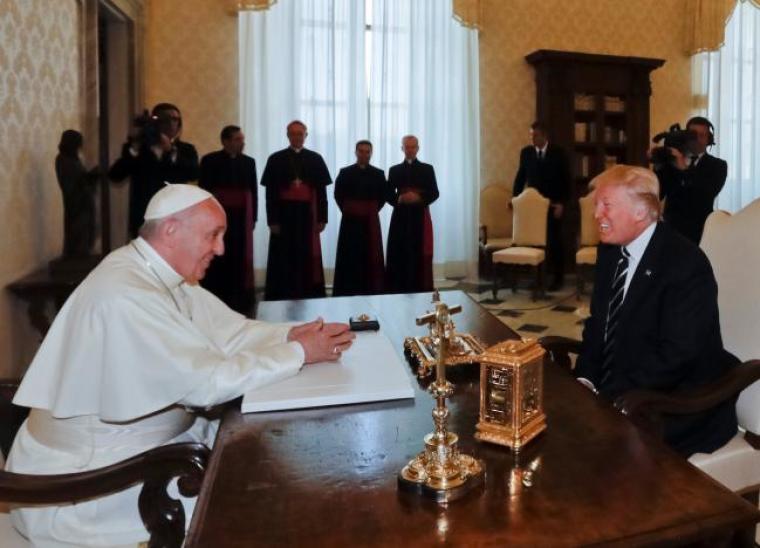 President Donald Trump and Roman Catholic Church leader Pope Francis met on Wednesday at the Vatican where they spoke for 30 minutes in private, and vowed to fight together for life, peace, and freedom of worship.
"Honor of a lifetime to meet His Holiness Pope Francis. I leave the Vatican more determined than ever to pursue PEACE in our world," Trump posted on Twitter following the meeting.
BBC News reported that the two world leaders held a 30-minute private meeting, with the Vatican later explaining that they talked about their shared commitment to "life, freedom of worship, and conscience," and expressed hope that they can collaborate "in service to the people in the fields of healthcare, education and assistance to migrants."
They also reportedly talked about the "promotion of peace in the world through political negotiation and interreligious dialogue," along with the need to protect Christian communities in the Middle East, which are suffering at the hands of Islamic extremists.
Catholic News Service noted that Francis presented Trump with a split medallion held together by an olive tree, symbolizing peace.
"It is my desire that you become an olive tree to construct peace," Francis said, to which Trump replied: "We can use some peace."
The Vatican leader also gifted copies of his documents "The Joy of the Gospel," on the family, and "Laudato Si.'" on the environment, which the billionaire businessman promised to read.
Trump presented Francis with a box containing five of Martin Luther King Jr.'s books, including a signed copy of The Strength to Love.
Francis and Trump have clashed on some issues in the past, such as the president's vow during the 2016 election campaign to build a massive wall at the Mexican border in order to keep illegal immigrants and traffickers out of the country.
Francis went as far as to say that building such walls is "not Christian," but did not comment on the border fence that already exists between California and Mexico that was built during former president Bill Clinton's administration in 1993. Trump, who is Presbyterian, previously said it was "disgraceful" for the pope to question his faith.
There appeared to be no sign of major disagreements during Trump's visit, with the U.S. President calling it a "fantastic meeting."
When saying his goodbyes with Francis, Trump said: "Thank you, thank you. I won't forget what you said."
Reuters reported that he later told reporters about how meeting the pope went: "Great. He is something. He is really good."
Trump's visit to the the Vatican is part of a nine-day foreign tour, which has already seen him deliver speeches in Saudi Arabia and Jerusalem.