'Don't Say My Name' star says it's time to 'end' sex trafficking as Christian film hits Amazon Prime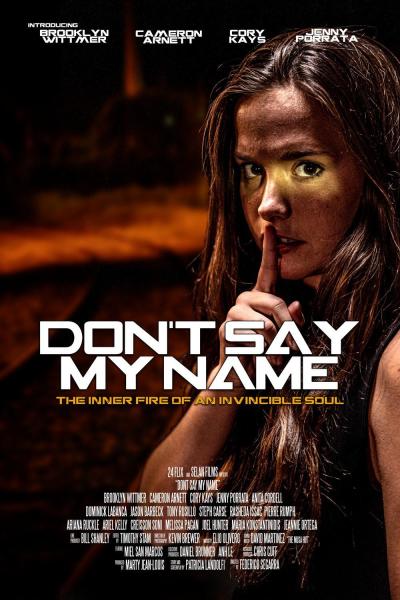 The Christian film "Don't Say My Name" has been added to Amazon Prime during human trafficking awareness month, and the film's lead actress is urging viewers to bring an end to the horrors of the global sex trade.
Based on actual events, the film depicts the harrowing experience of a survivor who escapes her captor and relies on God to sustain her. 
Originally shown in select theaters across the U.S. and worldwide, "Don't Say My Name" is now available on Prime, released by 24 Flix and Selan films, that aims to mobilize viewers into action.
"Don't Say My Name" features "Overcomer" actor Cameron Arnett, along with actors Cory Kays, Jenny Porrata and newcomer Brooklyn Wittmer in her first starring role.
"January is human trafficking awareness month and I am honored to be a part of the fight against trafficking by portraying a beautiful, brave, young girl who was sold by her mother for drugs," Wittmer said in a statement shared with The Christian Post.
"This horrific situation sadly happens in the U.S. and all over the world too much. I heard stories of survivors (beautiful, brave souls) who fight every day to make their today better than yesterday," she continued. They fight for a new life. We can help be that voice and lift them up!"
According to the United Nations Office on Drugs and Crime, the definition of human trafficking is any situation in which someone experiences "force, coercion, abduction, fraud, deception, abuse of power or vulnerability, or giving payments or benefits to a person in control."
The International Labour Organization reported that in 2014 that human trafficking is a multi-billion dollar a year industry worldwide, and as many as 1.2 million children are trafficked each year globally. Statistics have shown that thousands of children in the U.S. have also been lured into the commercial sex trade. 
Wittmer said people must be vigilant.
"We can know the signs and catch it before it happens to our friends, family or neighbors. It's up to us! It's time to end human trafficking," she declared. "Your voice matters!"
Her co-star Cameron Arnett praised God for the opportunity to bring the film to the mainstream streaming service.
"God continues to use the collective hands of His people, to help save all people and we are honored and grateful," Arnett told CP.
"Don't Say My Name" is directed by Federico Segarra, while the script was written by Patricia Landolfi de Segarra. Homeland Security agents, survivors and various aid organizations all participated in bringing the project to life. 
Producer Marty Jean-Louis previous told CP that "most movies on trafficking end after the rescue. But in this movie, we follow the victims' journey throughout the entire process," he added. 
During a panel discussion with the cast and crew and attended by CP, Jean-Louis revealed that faith is "everything" when it comes to helping survivors of human sex trafficking. 
"You cannot have healing without faith," Jean-Louis said.
An unnamed Department of Homeland Security agent who works in child exploitation investigations also shared how faith plays a role in the cases, including human trafficking. 
"My job is to look at horrible acts done to children, and [faith] is everything," he told CP at the time. "I go in there with a mission. When I'm doing my job, I'm a fact-finder; I'm collecting evidence, I'm collecting the things that the prosecutors need. But at the end of the day, I am human. Faith is my mission, which has brought me here. It's not a fun job, but it's a calling." 
The agent, who is played by Arnett and described himself as a "man of faith" and "a Christian," said it was surreal to get to see someone on screen portray his world. 
"Seeing Cameron come in and sit at my desk, I told him about the things at my desk and how when I crossed a certain threshold, I start investigating, I start looking, I start the horrible stuff," the agent said. "I felt from him the human element, and he brought it to the screen, which is cool."
"Don't Say My Name" has received rave reviews from viewers. 
The film's crowdfunding page says two children are sex trafficked every 60 seconds, while 10 will be stolen and enslaved every five minutes on average.
"Don't Say My Name" will be used by human trafficking organizations, schools and private and corporate entities to help spread awareness. Visit Don't Say My Name for more information.