Dove Awards 2013: Joyce Meyer, Daily & Vincent, Tankard Family Attend Nominees Luncheon (VIDEO, PHOTOS)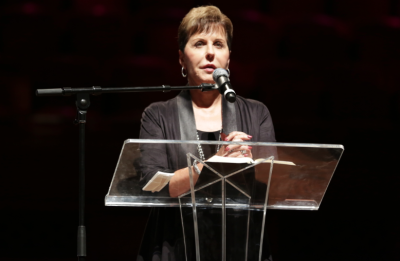 The 44th Annual GMA Dove Awards started in Nashville, TN., on Tuesday and a star-studded luncheon was held Monday in honor of the nominees.
Among the guests were Joyce Meyer, Daily & Vincent, the Tankard family, Capital Kings among others. Meyer, who was a special guest, gave a passionate and eye-opening speech which touched on humility and centered on faith.
"It is important not be to impressed when you win, and oppressed when you lose," Meyer told the crowd of this year's Dove award nominees.
The popular Christian author and speaker, 70, emphasized the importance of remaining humble despite one's accomplishments and putting all faith in Christ.
"God is making His appearance on the world through us," she said.
Jackie Patillo, Executive Director of the Gospel Music Association (GMA), applauded Meyer's speech. GMA organizes the Dove Awards each year.
"Joyce Meyer is food for the soul and the spirit. She's a very practical teacher and I was very grateful that when I called her she was willing to come and invest in the lives of artists," Patillo told The Christian Post.
She also explained the importance of the Dove Awards in helping spread God's word.
"Not only does Christian music exonerate the creativity of God but these artists have toiled hard on the road and made sacrifices with their family so they can spread the gospel through music," she said. "This is the time for us to come together and shine a light on it and ultimately God gets the glory."
Members from Daily & Vincent, an award-winning Bluegrass music group nominated for five Dove awards, were also in attendance. Two members Jamie Dailey and Darrin Vincent spoke exclusively with CP about their nominations, which includes "Song of The Year" for "From My Rags To His Riches" with Devin McGlamery.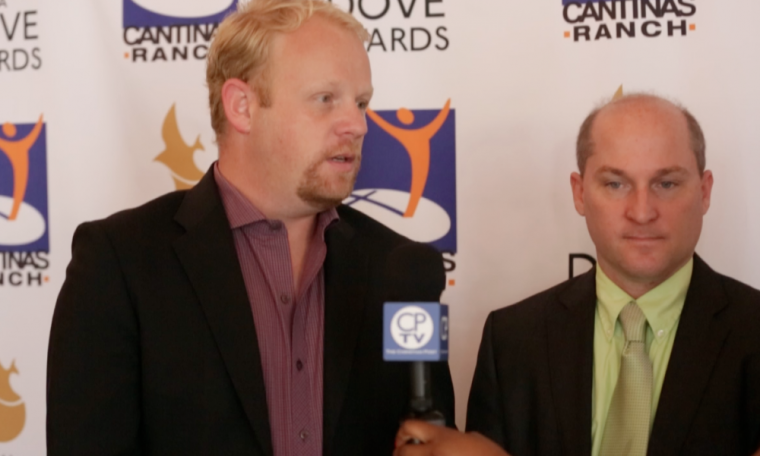 "It's a blessing, it's wonderful to be recognized especially in an industry that we're not really a part of because we do a lot f secular music and in our shows you'll see a lot of secular music and then about almost half way through our shows we'll do a gospel section of the show where there's about four or five gospel songs... it's our favorite part of the show," Jamie told CP.
"One of the good things that we're able to is we go into a field of secular music where there are people who... may have never heard of Christ... especially when we go into foreign countries like secular nations," Darrin Vincent said. "For instance we were in Switzerland several years ago... we were told to keep the gospel light on the show... one of the first gospel songs we did was a duet with guitar and two vocals and it was 3000 seats sold out... as soon as we ended the last note we had a full house standing ovation. In that instance we were able to reach a lot of people with a gospel song that we were told couldn't be reached."
The Dove Awards recognizes outstanding achievement in the Christian music industry and honors various Christian music styles including hip hop, country, pop and rock.
Former professional basketball player Ben Tankard, who is widely known as the Godfather of Gospel Jazz, opened up about his family's upcoming reality TV show "Thicker Than Water: The Tankards." The Dove Award nominee and pastor, 49, will star alongside his wife, Jewel, and their "blended" family when the show premieres on the Bravo TV network on November 10.
"The show is kind of like a combination of "The Brady Bunch" and "The Cosby Show," ... [we're] an African-American, Christian family," Jewel said. "My husband already had four children and I had one so it's about how we blend the families together and how we manage business and how we try to instill core values in them. God, family and business... it's super funny too!"
"We're real... It's a full family circus in our house. A lot of life lessons. I call them Christian calamities with a Kingdom conclusion," Ben said.
When asked about the best advice he's ever recieved throughout his career he replied: "To keep God first. To not take yourself too serious and to never give up."
The 44th Dove Awards will be held at Lipscomb University's Allen Arena on Tuesday, October 15.
For more information on the Dove Awards CLICK HERE.