Dozens of Parents, Students Leave Calif. Elementary School System After Board OKs Transgender Books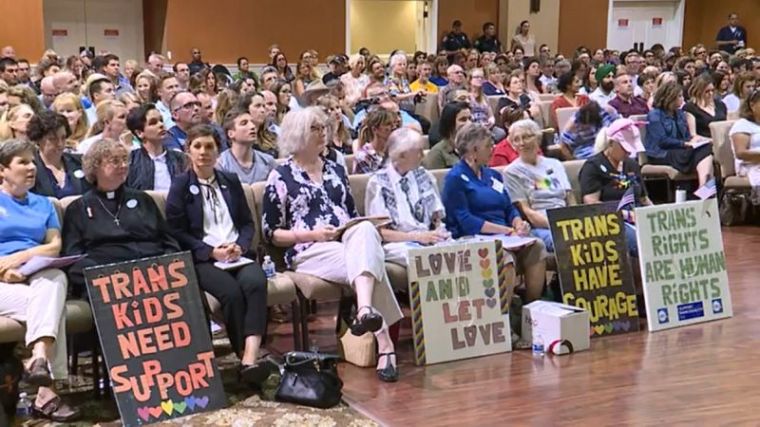 A California school board voted after much debate that books teaching students about transgenderism are to continue being used at its elementary schools. An option that would have allowed parents to opt their children out from such lessons has been rejected.
The debate has reportedly led to dozens of parents and children leaving the school system.
Fox News reported that the vote at Rocklin Academy Gateway took place on Monday night, with the board siding with advocates in favor of books such as I Am Jazz and other transgender material.
The board also apparently passed a provision stating that teachers "will endeavor to notify parents in advance of controversial topics being discussed when they are part of the school's curriculum or a teacher's lesson plan so that parents can also share their views at home."
Greg Burt of the California Family Council told LifeSiteNews that the amendment is "really weak," however, and provides no opt out option, which some parents had called for.
"There's no mandatory requirement," Burt said, noting that the policy does not suggest there will be accountability for a teacher if he or she does not notify parents of controversial subject matter.
He pointed out that the school district allows other kinds of opt-outs, such as from looking at the recent solar eclipse across America.
"When you're talking about something as sensitive and controversial as gender identity, for them to say they can't provide an opt-out for parents is just flat-out wrong," he said.
He revealed that 40 families and 71 children have left Rocklin Academy Schools due to the transgender debate.
"A lot of parents were holding out to see what the school board would do, hoping that they would respond positively," Burt said. "Now that they haven't ... I think you're going to have a much bigger reaction. But we'll see."
The controversy initially arose in August, after a teacher read from I am Jazz and The Red Crayon, two books which teach children aged 4 to 8 about transgender identity.
The teacher also apparently re-introduced to students a pupil who was born as biologically male but is transitioning to female.
Parent Chelsea McQuistan earlier told Fox 40 about the incident:
"To teach my kid that biologically this boy was born a boy and to teach him that now he's a girl is very confusing and I feel that it's a lie."
The Sacramento Bee noted that the transgender books have received support from some parents, such as Beryl Mayne of Auburn.
"It's important tonight to support transgender children. It's not about me. It's about transgender children," Mayne said before Monday's meeting.
"I'm a little bit disappointed because I thought our movement in accepting gay, lesbian and transgender children was moving forward," she added. "We make two steps forward and we go back a step. It's still a problem with accepting gays, lesbians and transgender."
Other parents, such as Chad Clark, expressed the need to be notified. "There should be an 'opt out' procedure in there by me, from the teachers, on what is going on in the classroom. We get notifications about parking and everything under the sun. This shouldn't be an issue."