Drag queen gives lap dance to student at LGBT pride event open to high schoolers
College will review policies, says parents of minors weren't notified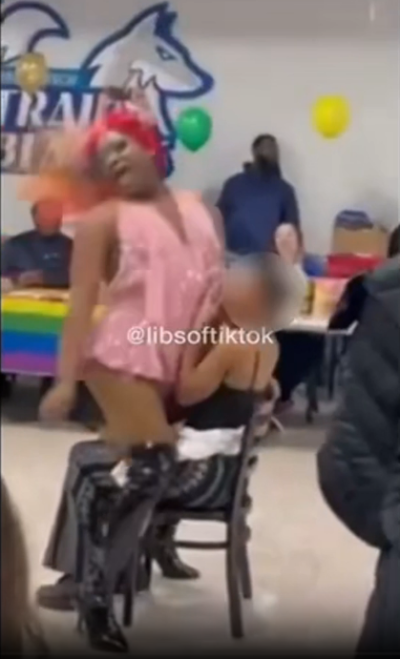 A college in North Carolina is looking into revising its policies after viral video footage posted online shows a female student receiving a lap dance from a drag performer during an LGBT pride event open to high school students. 
The Winston-Salem-based Forsyth Technical Community College, which also offers early college credit programs for high school students as young as 14, hosted a Pride festival on March 22. The festival was the second of its kind, according to a post on the school's Facebook page, which also featured pictures of the event.
A March 21 Facebook post on the school's page advertised a drag performance by Erica Chanel that was open to everyone on campus.  
The festival was organized by the Forsyth Tech Pride Club with the help of Prevent Ongoing Spread of STIs Everywhere (POSSE), a program of the Forsyth County Health Department, according to a post last week on the Libs of TikTok substack. 
In a video shared by Libs of TikTok, a drag queen is seen straddling what appears to be a student sitting in a chair as onlookers, including students and staff, watched and laughed. 
The Libs of TikTok also reported that churches and ministers were invited to attend the event. A now-deleted post on the Forsyth Pride Club Facebook page celebrated faith leaders in the Winston-Salem area who "live the 'Love thy neighbor!'"
A sign in the photo reads Parkway United Church of Christ, which states on its webpage that it "welcomes all people, including those of every race, spiritual tradition, sexual orientation, gender identity, and gender expression into the full life and ministry of the church." 
According to the LibsofTikTok, the school claimed that the faculty and campus police were present at the festival to "make sure that this was a safe event for our students."
"Forsyth Tech is committed to being a place of promise for our students," the school told Libs of TikTok in a statement. 
"In order to fulfill that promise, we have clearly spelled out our mission, vision and equity statements," it continued, noting that the event was open to all students, including high schoolers, who, in addition to the college students, are welcome to attend student events.
As the event drew much media coverage, Forsyth Tech Chief Officer of Student Success and Strategic Innovation Paula Dibley told Fox News that it would look into revising campus policies related to parental notification. 
"Parents of children under 18 were not notified of this event in advance," Dibley said.
"We have been in close contact with our early college school leadership and are talking with both leaders and parents about how we can revise campus policies and procedures regarding early and middle college students' attendance at campus events," Dibley added.
Forsyth Technical Community College, the Forsyth County Health Department and the Parkway United Church of Christ did not immediately respond to The Christian Post's request for comment. 
The event comes as there has been much pushback to drag queen shows in which minor children are allowed to attend. 
Last month, North Carolina's neighboring state of Tennessee passed a law to ban adult cabaret performances on public property and in front of children. The law "creates an offense for a person who engages in an adult cabaret performance on public property or in a location where the adult cabaret performance could be viewed by a person who is not an adult." 
 The bill defines "adult cabaret" performances as shows that involve exotic or topless dancers, strippers, go-go dancers, or male and female impersonators providing entertainment that "appeals to a prurient interest." Drag shows are performances typically featuring men who dress up to impersonate women. 
In a March 25 National Public Radio interview, drag star Eureka O'Hara called the law "disheartening," arguing that lawmakers are "pigeonholing" drag shows into one negative sexual connotation to "instill fear." 
"And, you know, we're not trying to harm anybody. We're just trying to be fierce and fabulous and celebrate each other," O'Hara said. 
The bill's sponsor, Republican Sen. Jack Johnson, said that the law seeks to protect children from sexually explicit content. O'Hara told NPR that he isn't aware of a history of kids being negatively affected by a public drag queen performance. 
"So the argument that it is trying to censor performance for children — well, that's the same thing that we're doing at the movies, right? But parents have the right to take their children and choose what movies they allow their children to see," the drag performer contends. 
"In a diverse world where people are starting to grow and evolve, where we do have the World Wide Web and so many elements that connect these children, they're able to find out who they are much sooner in life, and to distract them from them being able to discover who they are is, I think, the worst harm that you could do, more than a drag queen performing in front of one of them." 
Another video shared by the Libs of TikTok of a drag event showed performers in lingerie dancing and performing acrobatics in front of moms and children. 
The event took place as part of the VAULT Festival, an independent showcase of live performers in the United Kingdom. The group behind the performance, the U.K.-based organization CabaBabaRave, advertised the event as a "show-stopping cabaret interspersed with captivating baby sensory moments.. ending in a RAVE." 
"This from a recent 'family-friendly' drag event geared towards babies in England," Libs of TikTok tweeted on March 1, sharing clips of the event. 
In one of the clips, a drag artist wearing leather and thigh-high boots does gymnastics while hanging from ropes suspended from the ceiling. Another drag performer seen in the video wears a thong while doing a handstand in front of the cheering crowd. 
Other drag events that have advertised themselves as "family-friendly" have prompted concerns from lawmakers and social media users about the content presented in front of children. 
A "Drag the Kids To Pride" show in Dallas, Texas, at the Mr. Misster bar last June, prompted Republican Texas Rep. Bryan Slaton to introduce a bill last month prohibiting "certain erotic performances." Photos and videos of the event showed an artist dancing under a sign that read "It's Not Gonna Lick Itself" and accepting tips from children in the audience.