Droid Razr HD Unveiled on September 5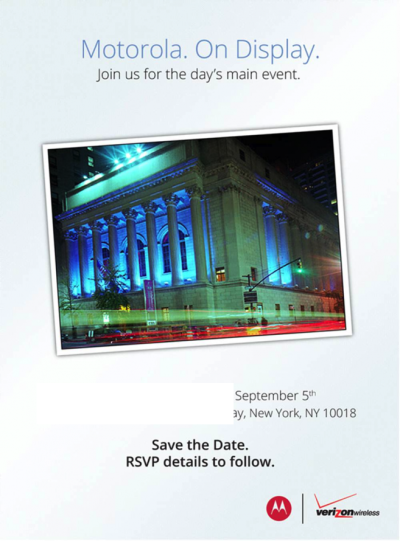 Motorola might be unveiling the Droid Razr HD smartphone on Sept. 5 shortly before the new iPhone is expected to make its debut.
The company sent out an invitation earlier this week that says "Motorola On Display, Join us for the days main event." It is scheduled to take place on Sept. 5 in New York City with more information to come in the next week or so.
It seems like Motorola is attempting to beat Apple to the punch by revealing its flagship device slightly before the new iPhone is unveiled on Sept. 15. However, that date still is not official.
Contrary to some of the latest rumors, the Motorola Droid Razr HD will not feature a 3300mAh, making its pack slightly less powerful that the Droid Razr Maxx's.
The device will come equipped with a 2530mAh battery. Another confirmed specification for the smartphone is its software as the Razr HD will come with Android 4.0.4, Ice Cream Sandwich pre-installed. The JellyBean 4.1 update should arrive on the device in the early part of 2013.
Motorola reportedly is planning to ship the Droid Razr HD in October of this year.
Hothardware.com recently released a report that stated that the company is currently aiming to release this phone during that month, but might not be able to have the device ready by that date.
The site claims to have received this information from a reliable source and also displayed two new leaked images of what is said to be the Droid Razr HD.
These new leaked images also point to the Droid Razr HD coming with Android 4.0, Ice Cream Sandwich pre-installed.
The company is also expected to release a Maxx, variant of the device that will feature a more powerful battery.
DROID RAZR MAXX by Motorola - Interviews